Beginner's Guide to Email Marketing
Email marketing is great for anyone looking to expand their reach to customers and prospects alike. 
It has become progressively more difficult over the years as spam filters get wise to marketing emails, but done right it can be a highly effective marketing tool. 
In this guide we will discuss some of the basics to help you start moving your email marketing in the right direction and turn it into a profitable channel for your business.
Email Marketing: How and When
When you send your emails, the timing is so important. Get this wrong and you could see no interaction at all or mass unsubscribe from your hard-earned lists. 
Bear in mind though, most email platforms like Active Campaign will bill you by the number of email addresses you have in your platform. 
Sometimes it might be better to let some go who are never going to interact. They're costing you money, lowering your open rates and potentially hiking up your spam rates too.
Best day or time of the week for email marketing
If you run a bar or restaurant, you'll likely see better returns from your email on a Thursday or Friday as people get in the mood for the weekend. 
A B2B company would normally find a Tuesday works great, but it's well worth testing this as you never know. The different industry quirks can mean better open rates on other days. 
Within eCommerce, the best day will always be pay day, which is normally the last Friday of the month in the UK.
How often to send emails
This always depends on the industry you are in and what the subscribers on your list are happy with. 
It is so important to test these factors to make sure you aren't losing subscribers due to not being active enough. On the flip side, being too active can annoy people with too much communication and lead to unsubscribers too.
That being said, we always recommend starting off with either monthly or fortnightly emails before starting to increase the velocity of your sends. This is purely down to making sure your subscribers don't suddenly feel overwhelmed with the number of emails you send and head for the hills, in this instance hit the unsubscribe button or even worse, "mark as spam".
Through trial and error you'll be sure to find the sweet spot for the frequency of emails. You can even set up automations to create weekly/bi weekly emails. We do this within ClickUp – you can read about it here.
Best image size for email marketing
The answer to this is an SEO's favourite saying – "It Depends". 
According to Campaign Monitor, they use an email header image of 960px wide. This is due to the vast number of email clients there are in the world to open emails along with the fact most email clients are now fully responsive. Their email builder supports images of up to 20MB in size.
Active Campaign recommends you keep your image between 400 and 650 pixels wide. This completely depends on the layout you choose, however – some may be square images, some much wider. The maximum file size they recommend is 5mb.
Again, with Klaviyo, the image specifications depend on the design you choose. Like Active Campaign, the maximum file size they recommend is 5mb, however they recommend using less than 1mb where possible to avoid slow loading time.
Mailchimp recommends an even smaller guide of 1mb for all images.
What is a Good CTR for Email Marketing?
Again, this depends on your industry. Overall, a click through rate of around 2-5% is considered to be good. Mailchimp has a great table of average open rate and click through rate by industry, you can check it out here.
Click through rate can be improved in various ways, for example:
Making buttons or call to actions (CTAs) obvious

Improving your design, making it easy to show what you want readers to do or where you want to draw their attention to

Use powerful phrases in your CTAs, for example 'save, start, now, join, win, exclusive'.
Best Practices for Email Marketing
In order to be successful, it's essential to follow best practices. Here are some tips:
Ensure your list is opt-in: This is one of the most important rules of email marketing. If you don't have permission from your subscribers, you could be facing spam complaints, unsubscribes, and even legal battles. Always make sure people have the option to subscribe to your list and that they are aware of what they're signing up for.
Send relevant content: Don't send your subscribers information that isn't relevant to them. If they opt-in to your email list, they want to hear from you. Send them information that will interest them and help them in their everyday lives.
Personalise your copy: Personalise your copy with the subscriber's name or other personal details. This makes them feel like you're talking directly to them, increasing the chances that they'll read your emails and take action.
Keep your messages short: Most people are busy and don't have time to read long emails. Keep your email messages short, concise and to the point so they can be easily read and understood.
Use a clear subject line: Your subscribers should be able to quickly understand what the email is about by reading the subject line. Make sure it accurately reflects the email's content so that subscribers don't get confused or decide not to open it.
Test different types of copy: Not all copy works for everyone. Try different types of email copy to see what works best for your subscribers. This could include videos, images, articles, or even infographics.
Use A/B testing: A/B testing is a great way to see which email copy and subject lines are most effective with your audience. Test different versions of each to see which gets the best results.
Optimise your emails for mobile devices: More than half of all emails are now opened on mobile devices, so ensure your emails are optimised for these devices. Use a responsive design or ensure your text is easily read on a small screen.
Track your results: It's important to track the results of your email marketing campaigns so you can see what's working and what isn't. Use analytics tools to track things like open rates, click-through rates, and conversion rates.
Use a reputable email service provider: Using a reputable

email service provider

will help ensure that your emails reach their destination and that they look great no matter what device they're viewed on.
Use images sparingly: Too many images can slow down the loading time of your email and may cause spam filters to block the email.
Ensure your links work properly: Broken links can be frustrating for customers and may cause them to unsubscribe from your list.
Test your email before sending it: It's always a good idea to test your email on different browsers and devices before sending it out to ensure that it looks correct and functions appropriately.
Use a responsive design template: A responsive design template will automatically adjust the size of your email to fit the device it's being viewed on, ensuring a good user experience regardless of the device someone uses.
Segment your list: Segmenting your list allows you to send targeted content to specific groups of customers, increasing the likelihood that they will open and read your emails.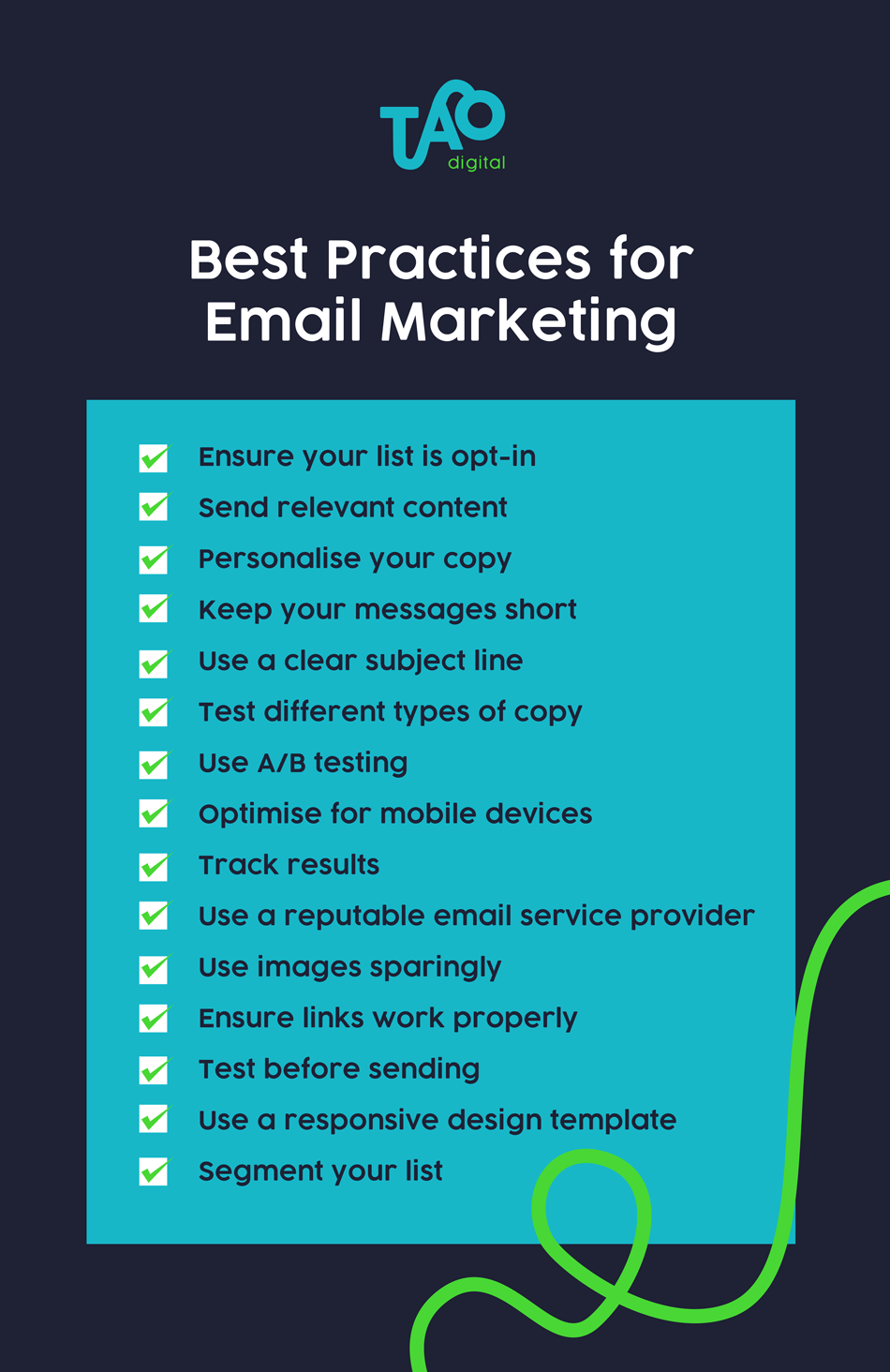 Subject Line Tips
Subject lines are arguably one of the most important factors in email marketing. While it may only seem like a small part of your message, they are the very first impression you have on your recipients. This is why it is so important to craft a subject line which is compelling enough to get people to click through. 
Here are some tips for successful subject lines:
Learn by example. Seeing clever word plays or emojis is one of the best ways to get you thinking about how you could alter your subject line to be more compelling. Sign up to the newsletters of competitors in your industry and see what tactics they are using.
Keep it short and sweet. Email subject lines can be cut off if they're too long, especially on mobile devices. Try to make your subject line 50 characters or less to ensure people scanning your email read the entire message. 
Avoid 'no-reply' send names. Thanks to the amount of spam people get these days, many people will ignore or delete email with an address like 'noreply@company.com'. It makes the email less personable and prevents people from adding the email to their address book. 
Don't make false promises. Your subject line is used to make promises to your reader about what your message will be. Make sure you are making a good commitment, and try not to get your email opened by false promises. This may bother your audience and they'll lose trust in your subject lines. 
Don't shy away from humour. Most people love a good pun, and it's a great way to spice up your recipients emails. Don't go overboard, but think of small ways you can incorporate humour into your subject lines.
UK Email Marketing Law
When you send emails for marketing purposes, you must be compliant with UK email marketing laws outlined in the Privacy and Electronic Communications Regulations (PECR). 
These rules outline specific things you must include in your marketing emails, such as disclosing your identity and providing a valid email address to all recipients. 
The PECR also covers:
Use of cookies or similar tracking technologies

Any form of electronic communication made for marketing, including text messages and emails

To make sure the communication service providers are secure, including customer privacy-directory listings, location-based data and other identifiers. 
Under the General Data Protection Rule (GDPR), recipients can prevent companies from accessing their personal data, which is any information related to an identifiable person. 
The seven principles of the GDPR include: fairness; lawfulness and transparency; purpose limitation;data minimisation; accuracy; integrity and confidentiality; and storage limitation. 
Under the GDPR, an individual's consent is considered as a critical aspect. The consent can either be expressed or implied freely by the individual. 
Here are some tips to make sure your emails align with the UK laws:
Identify your emails as an advert. This can be as simple as having a clear subject line indicating the purpose of your email, such as phrases like "discounts this week".
Make sure you have permission from your recipients. 
Include your business details such as a postal address.
Give importance to the unsubscribe requests. The opt-out process should be made as uncomplicated as possible and done within 10 business days.
Pros and Cons of Email Marketing
As with all methods of marketing, there are positives and negatives to both.
Pros:
Lead generation: Emails are an incredibly powerful form of lead generation and can lead to sales.
Segmentation: You can segment, tag or create lists for the exact kind of audiences you want depending on their interests. This is especially useful for eCommerce businesses who may offer products for a variety of different audiences, e.g. a footwear business that sells mens, womens and kids shoes. By segmenting them, you can avoid sending irrelevant emails to your main list and avoid unsubscribers.
Advertising directly to your audience: Other forms of advertising, such as social media, may not get directly in front of those who like or follow you due to the different algorithms on each platform, however with emails you are directly in their inbox.
Opting in: These people have opted in and WANT to hear from you. This is much different to other forms of advertising, such as paid socials, where you may not always be relevant to the audience.
Access to valuable analytics: There are so many analytics you can access that can give in-depth insights into your audience, such as the best times to send emails, which subject lines are working best, where your subscribers come from, how many times links are clicked in the emails and by who, how many sales have been made, etc.
Can be easy to build a list with competitions: There are a few incredibly easy ways to build your email marketing list. One way that has worked really well for our clients is via holding competitions where entrants enter their emails to enter. Through just a few social media posts for our client,

Hirst Footwear

, we generated over 700 email subscribers – you can

read the case study here

.
Cons:
Can be costly for small businesses: Startups and SMEs may find that some email marketing platforms are out of their budget until they have the financial backing and resources to see a return on investment.
Can take time to understand platforms and segmentation: If you're a newbie to email marketing, it can take some time to get your head around using different platforms. If you get stuck and your email provider's guides aren't much help, some email providers can take up to a week to respond to an issue.
Can get caught in spam: If you suddenly receive a lot of spam complaints, some email providers can automatically filter you into your subscriber's spam folders, rendering your efforts ineffective.
Design issues: Some email marketing platforms have an easier design interface than others. There can be limitations on some platforms, e.g. not being able to change the colour of buttons or images not aligning without having to edit code. 
Can take a while to find a balance between sales and messaging: It's important to find that 'Goldilocks Spot' of your messaging – not too many pushy sales emails and not too many blogs/advice. Striking the balance will depend on your industry and how your subscribers respond, which can be determined by your CTR.
Summary
The more hands on you get with your email marketing, the more efficient you'll become. Although it may feel overwhelming at first, following the steps above will help your campaigns achieve success. 
The more you learn what resonates with your audience, the more you can scale your marketing goals and deliver meaningful messages that will drive results.