CopyPrint Services – Case Study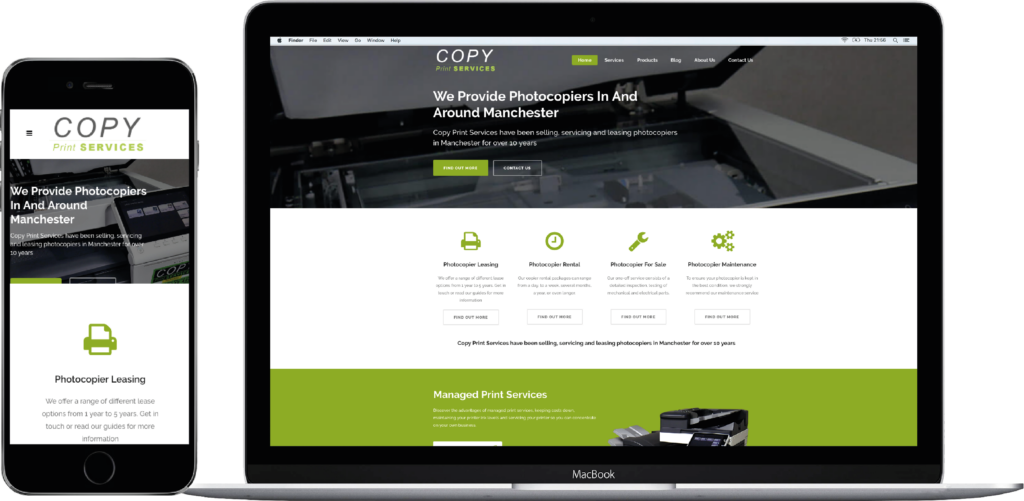 Another week goes by at Tao and we have more case studies to shout about! Around two years ago, a Bolton based printing company came to us with the goal of boosting their online visibility and ultimately increasing their sales. We love working with local businesses so this was a no brainer for us! But where to start?
When a business comes to us with a clear goal, it's important for us to really think about which marketing avenues will generate the best results for them. A marketing budget needs to be spread out efficiently across key areas to maximise a return on investment.
With this in mind, we formulated a digital marketing strategy focused on 4 areas: A new website, marketing automation, a PPC campaign and Search Engine Optimisation.
New Website Build – Project Management
The first step of the strategy was to build a new website that was technically sound and optimised for conversions. Nobody likes it when a site takes ages to load, so we made sure that the site was snappy on desktop and mobile.
Not only does this benefit the user and increase conversion rate, it also helps the site rank better on Google. We also implemented a blog on the site which is crucial for SEO and increasing visibility.
A good website is the foundation to building an online presence, so when this was established we then looked at driving more traffic to the site.
You can view the site here https://copyprintservices.co.uk.
Pay Per Click Campaign (PPC)
SEO is a long-term investment. There's no other way to put it. While good SEO can see incredible results over time, it's important to cover all bases and use short-term strategies to gain results too.
PPC is a great way to do this.
In less than a day, you can start generating leads from a Google Ads campaign and that's exactly what we did with copy print services. We built a conversion optimised landing page and different Ad campaigns for different services e.g. photocopier leasing, photocopier rentals etc. The results so far have been great and we were generating leads for them almost instantly. Over time, we continue to optimise the campaign's to reduce costs and ensure consistent leads keep coming through.
Search Engine Optimisation (SEO)
Once the website was built and we started generating leads through Google Ads, we could then focus on long term strategies like search engine optimisation. Our approach here was to focus on content marketing to rank for specific keywords.
We created content that was relevant to the site and that was topical. Understanding what it was that people were asking on google and making sure that we answered those queries in the content we produced.
We took them to the first page of Google for all 6 of their targeted keywords so far. They are also on the first page for other search terms that are not being targeted but are relevant to the services they provide.
1. Research the market
2. Selected the keywords to generate leads
3. Planned SEO strategy
4. Initiate strategy (produce content, technical development and Link Building)
5. Climb the ranks of google
By implementing these steps, we have seen an 80% increase in online leads, 120% increase in online visibility and 60% increase in traffic to their website.
​In other words, a huge increase in sales and brand awareness.