How To Find Your Target Audience With Facebook Ads
As of recent, Facebook has disrupted the advertising world and climbed the ranks to compete with giants like Google. With a user base of over 1 billion daily users, it's easy to see why Facebook has become such a lucrative advertising platform.
Marketers and businesses alike are now seeing the value of targeting their audiences down to their demographics, location and interests. But how exactly do you go about finding that 'target audience'? Luckily for you, we have put together a complete guide for how to target the ideal audience on Facebook.
Whether you are an agency owner or want to get your business seen by more people, Facebook Ads may be the platform to help you reach your target audience.
First things first, you will need to go to the 'Audiences' tab in either 'Ads Manager' or 'Business Manager'. The 'Audiences' page will allow you to create new audiences and see your previously saved ones.

Before we go into the details of creating audiences, we need to define the three main types of audiences on Facebook.
Saved Audiences, Custom Audiences and Lookalike Audiences.

What are Saved Audiences?

Saved audiences allow you to create an audience based on the demographics, interests, behaviours and location of the people you're targeting. These all sound great, but why are these important and how do we go about implementing them?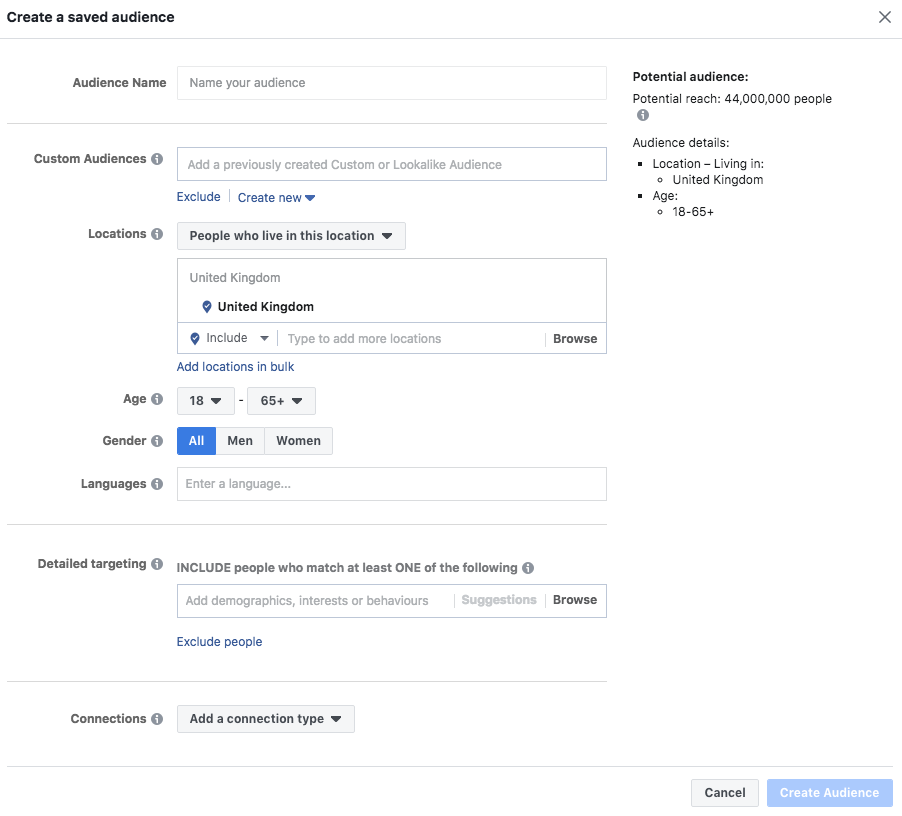 Demographic Targeting
Demographic targeting allows marketers to draw upon information that people share publicly on Facebook. This ranges from life events and career to political view and education. While there is a whole range of options you can get stuck into, we recommend focusing on gender, age and language to start off with.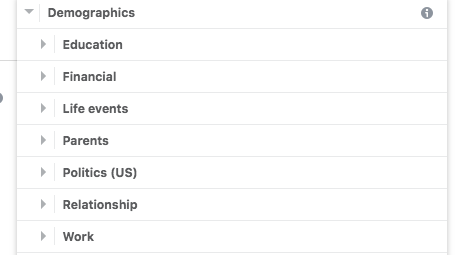 Location Targeting
Location targeting is a great way to ensure that people within a certain radius see your ads. Marketers can use location targeting to target ads by postal code, city, region, country or worldwide!
In order to target an area of your choice, type in the city, country or region you want to show your ads to. The great thing about location targeting is that you can go into even more depth and target people who have recently visited a location, people travelling to a location, people currently in a location and people who live in the location.
Does you business operate in a remote location? Target people within a small radius of your business down to the mile!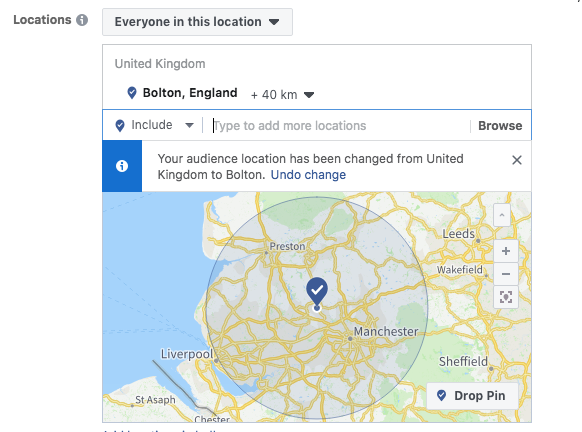 Interest Targeting
Interest targeting is useful if you have a product based around a lifestyle or interest. This method of targeting allows marketers to focus on consumer and lifestyle categories such as entertainment, fitness and wellness, food and drink and much more.
Facebook gathers this data from users likes and interests, Facebook pages they have liked and apps they have used. Do you have a sportswear brand that sells running gear? Why not select people who have interests in physical activity, running, triathlons etc.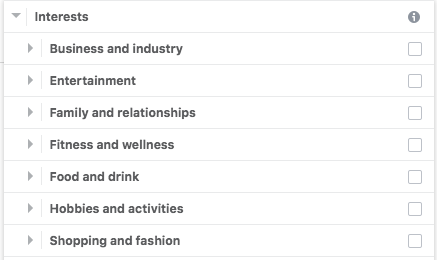 Behaviour Targeting
Behaviour targeting allows marketers to target people by their previous purchase history, events they like, anniversaries and more. Facebook gathers this data by analysing numerous factors and external data sets. Device usage is an important targetable behaviour as you can create ads to include or exclude people by a desktop browser and operating system.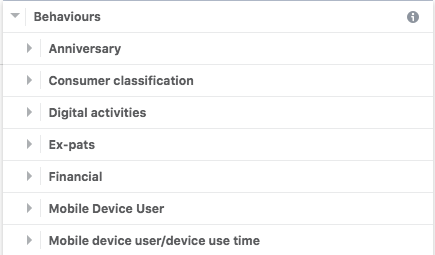 ​
What are Custom Audiences?

So, now you know how to set up a saved audience, all good to go, right?
Saved audiences are definitely are a great starting point but if you want to delve even deeper into your target audience then you need to know about custom audiences. With Custom audiences, you can target ads to people who have taken actions on your website, Facebook page, mobile app or other sources.
Custom audiences act as your most high-value target audiences because they have engaged with your content/website previously showing they may have purchasing intentions.
You can create audiences based on:
Website traffic
Customer files e.g. emails, phone numbers
App activity
Engagement on Facebook
Offline activity
Facebook also allows you to combine custom audiences with different options to reach the right audiences such as location, demographics, behaviours, interests and connections.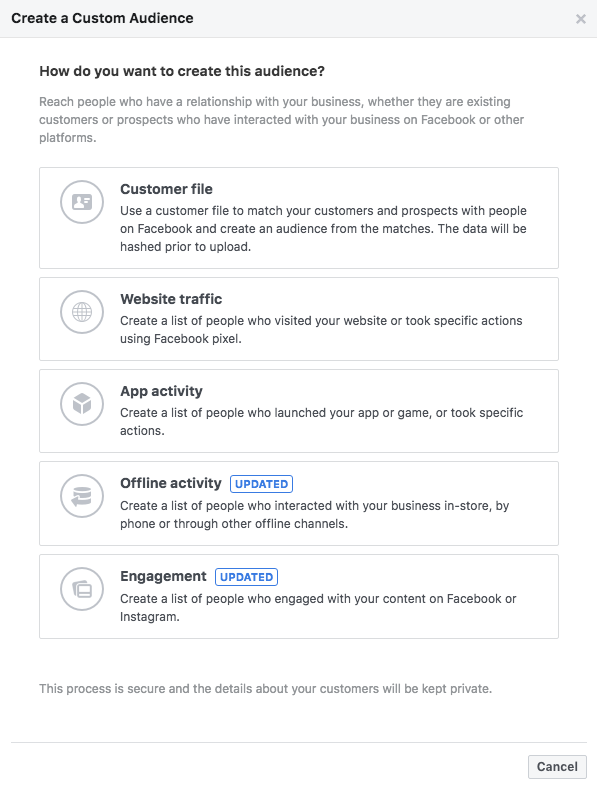 What are Lookalike Audiences?

Finally, you're now ready to target your audience, well, nearly.
Want to target new customers who are similar to your existing ones? Custom audiences act as a building block for creating Lookalike Audiences, a way to reach new customers who are similar to your existing customers.
Facebook allows you to choose the size of your Lookalike audience, the smaller the audience the closer the match to your existing audience/customers. It is recommended by Facebook to go with an existing audience between 1,000 and 50,000 people.
In order to go about creating a lookalike audience, you will need to choose a source so Facebook will know what type of individuals you want to target. A source for your lookalike audience may be your custom audience from your Facebook Pixel, fans of your Facebook page or mobile app data.
It's important to note that, if you want to set up a custom audience based on your website traffic then you need to set up the Facebook Pixel to track users actions on your webpage.
After you have selected the 'Lookalike Audience' from the audience creation menu, you can select a target country and a percentage of the targeted country's Facebook users.
Summary:
Equipped with the knowledge on how to create your three types of audiences, you should now be able to start building your ideal target audience. Facebook audiences can sometimes be in the millions.
Whether you use a saved audience, create a custom or lookalike audience, focus on keeping your audience size relatively small so you target customers willing to take action.
Of course, this all depends on the goals of your campaign. If brand awareness is your aim, a large audience may be best for you.
Okay, now you're ready.
If you would like any assistance with Facebook Advertising, do not hesitate to get in touch!