Our Guide to Google My Business
Having a Google My Business Profile is a great way to get in front of new customers and help towards local SEO. In this guide, we'll be answering some of the most frequently asked questions about Google My Business, with step-by-step instructions for some of the more in-depth questions. Keep reading to find out more.
What is Google My Business?
Google My Business is essentially a business profile that appears on the side of Google's Search Engine Results Page (SERP) when someone searches for your businesses or your services in their area.
It's essentially a brief overview of your business, including, but not limited to:
Business name

Address

Primary and secondary categories (your service offering – we'll touch on this later)

Photos of the team/business/service offering

Location on Google Maps, sometimes an external shot of the business taken from Maps 

Opening hours

Contact details

Website

Reviews

Q&A from users
Why is Google My Business important?
Google My Business is incredibly important – every business should have one as it helps potential new customers/clients find your business. For example, if you're a coffee shop owner and a local types 'coffee shops near me' into Google, you will appear based on the location you have listed. These customers may never have come across you otherwise.
It also helps you to understand how your customers are finding/contacting you. Through looking at the analytics you can find out what keywords people search to find you, as well as getting insights on calls, reviews, bookings and more to understand how you connect with customers.
Does Google My Business help SEO?
Yes, it can help with SEO, particularly local SEO. Making sure your information is up to date and that you post regularly is highly likely to be a ranking factor that can help Google to understand your business offerings (Google would never give away its true ranking factors or we'd all be fighting for number one). 
It's important to make sure you optimise your listing as much as possible – we'll touch on this later.
Is Google My Business free?
Yes, Google My Business, or Google Business Profile, is completely free! The ultimate aim of Google is to make it easy to use and help people to find the local businesses they are looking for. By listing your business, you're helping people looking for your services and of course, Google – hence why it's completely free.
Interestingly, as we write this in November 2022, Google has filed a lawsuit against a company who allegedly charged people for setting up GMB profiles. According to Search Engine Land, the company "threatened business owners that if they failed to pay (typically $99), their Business listings would be deactivated or marked as "permanently closed" and their positive reviews would be hidden – resulting in lost visibility and revenue." 
Do I have a Google My Business account already?
If you're buying out a business or starting out as a Marketing Exec, you may be wondering whether the business already has an account. The simple way to tell is to Google the business – if the profile comes up, the business has one. This will be a case of claiming the listing, which we'll touch on later.
If not, it's time to set your profile up.
How to set up Google My Business
Here is our simple guide
Google My Business is incredibly easy to set up. The first step is to go onto Google, make sure you are logged into a Gmail account (or a Gmail-connected email address) and click the dots in the top right corner. From there, you'll find an option to click 'Business Profile'.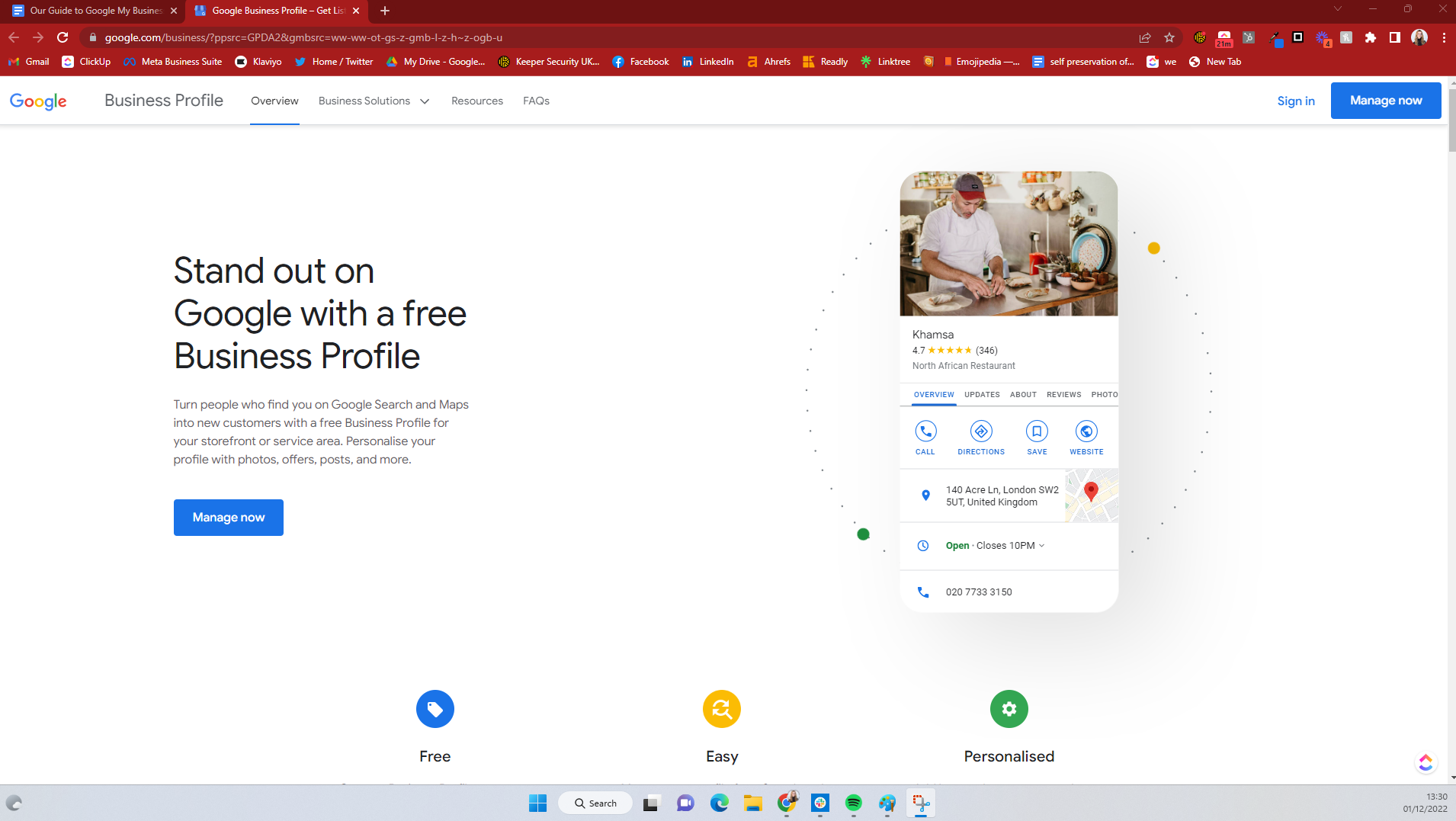 Then, you'll see the page below. Click 'manage now'.
You will then be taken to the next page. As you'll be setting up a brand new account, click 'Add your business to Google'.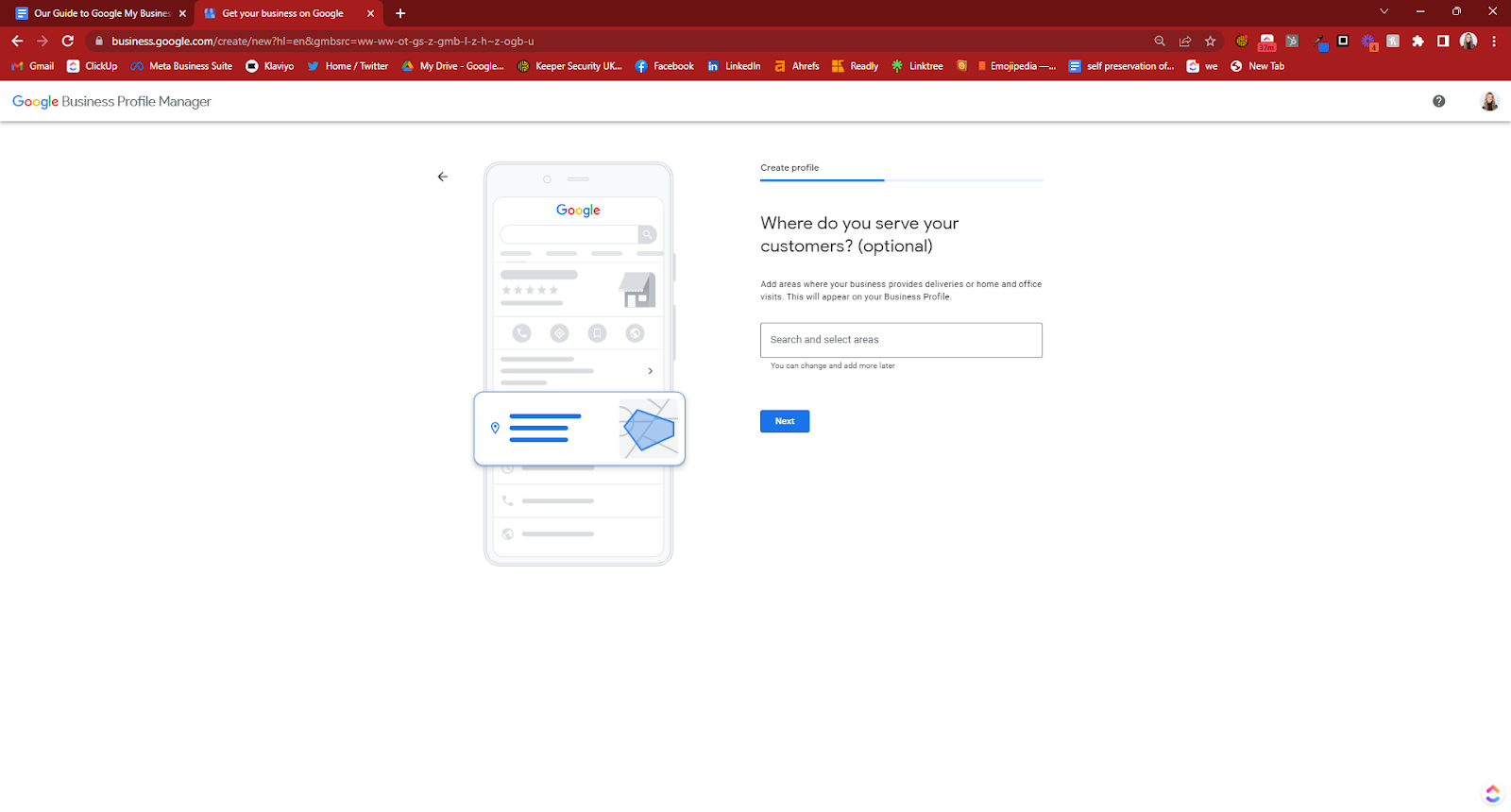 You can then enter your business name and business category. The frustrating part of adding a business category is that there is no drop down menu, instead you start typing and then can only pick from a selection available.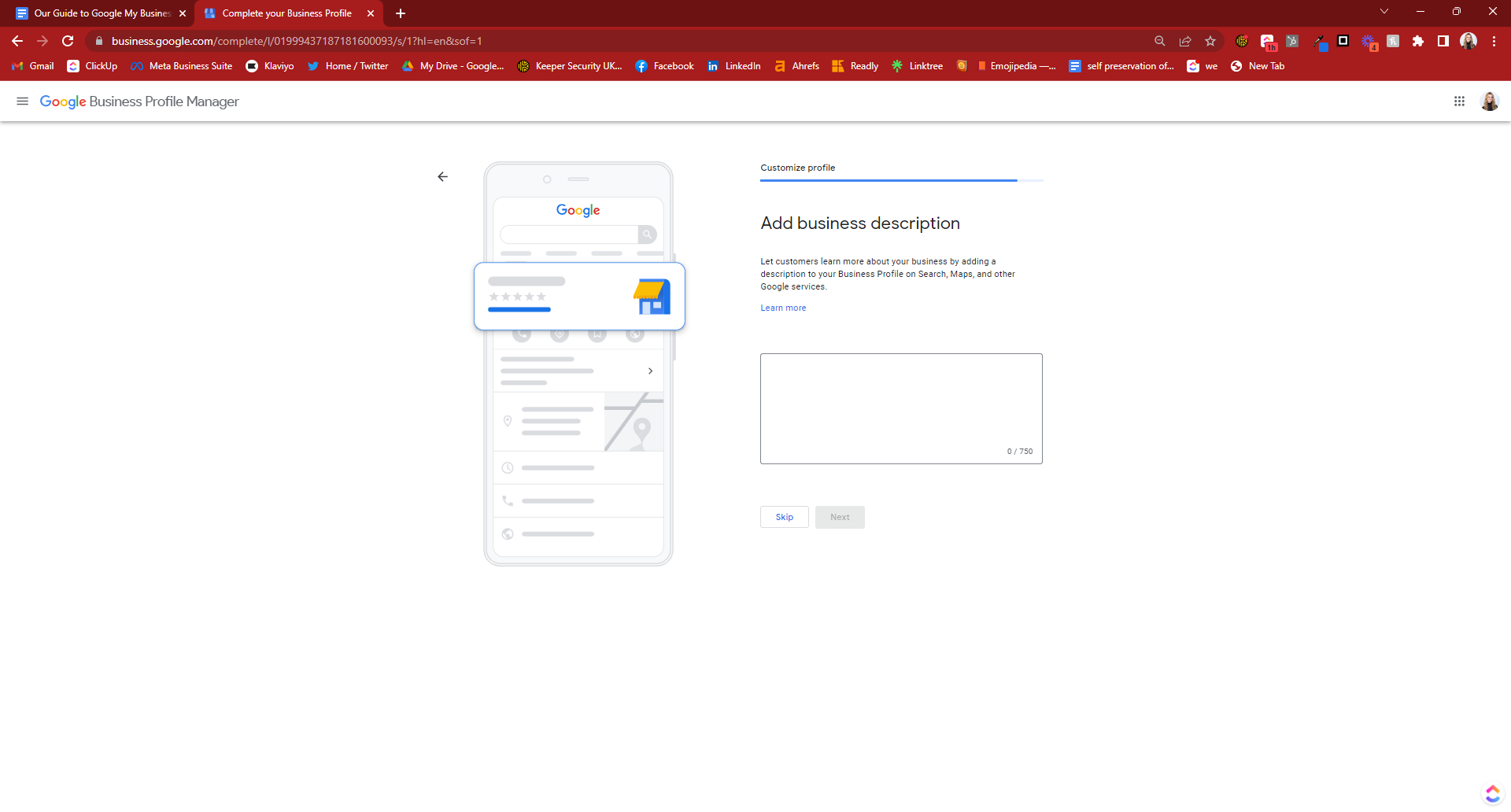 For us, we typed in 'Digital Marketing' and this didn't appear, however 'Marketing Agency' did as you can see below – it's a case of guessing the terms Google may file your business under until you find an exact or close match to how you would describe your business.
To help with this, Vicki Mace, Digital Marketing Consultant from Insight Digital Copy, advises that you look at what your competitors have as their primary category. Do a search for a primary keyword, see what businesses appear and identify what category they belong to.
 She suggests that you can further validate this by asking the following questions:
Would this category be the best fit for the services/products you offer?

Do people search for this service? In comparison to other categories, how popular is it?
Further on in the process you can add up to nine other business categories. Be mindful only to add categories related to your business – Google will suspend anyone adding irrelevant categories just to show up for more terms.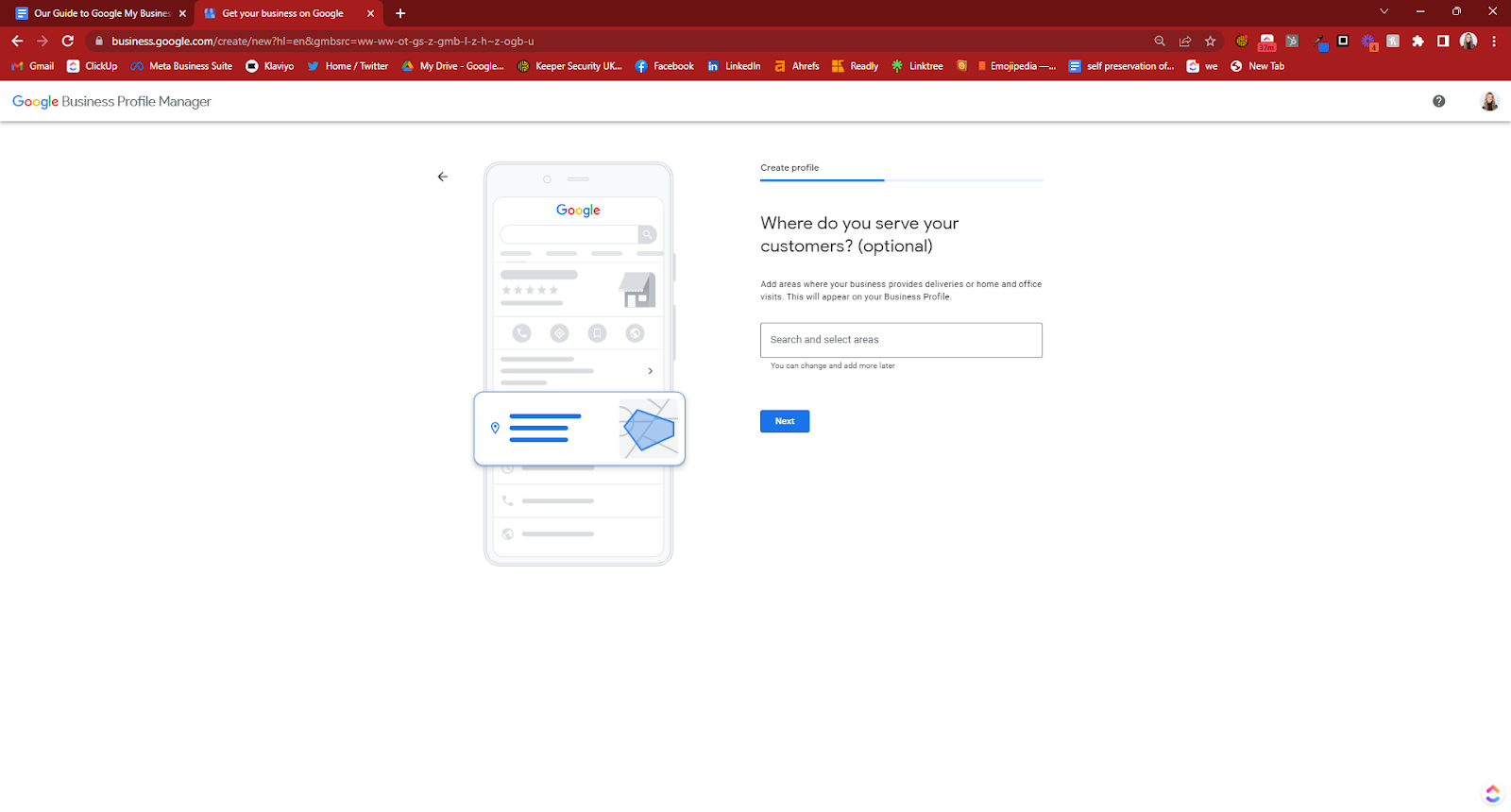 After you have entered your category, you will then be asked if you want to add a location. If you are mobile or based at your home address, you may want to avoid this for security purposes and only give it when you receive an enquiry. In this instance, you are classed as a 'Service Area Business' (SAB). 
If you click no, you will be taken to a page that allows you to list multiple service areas, as below.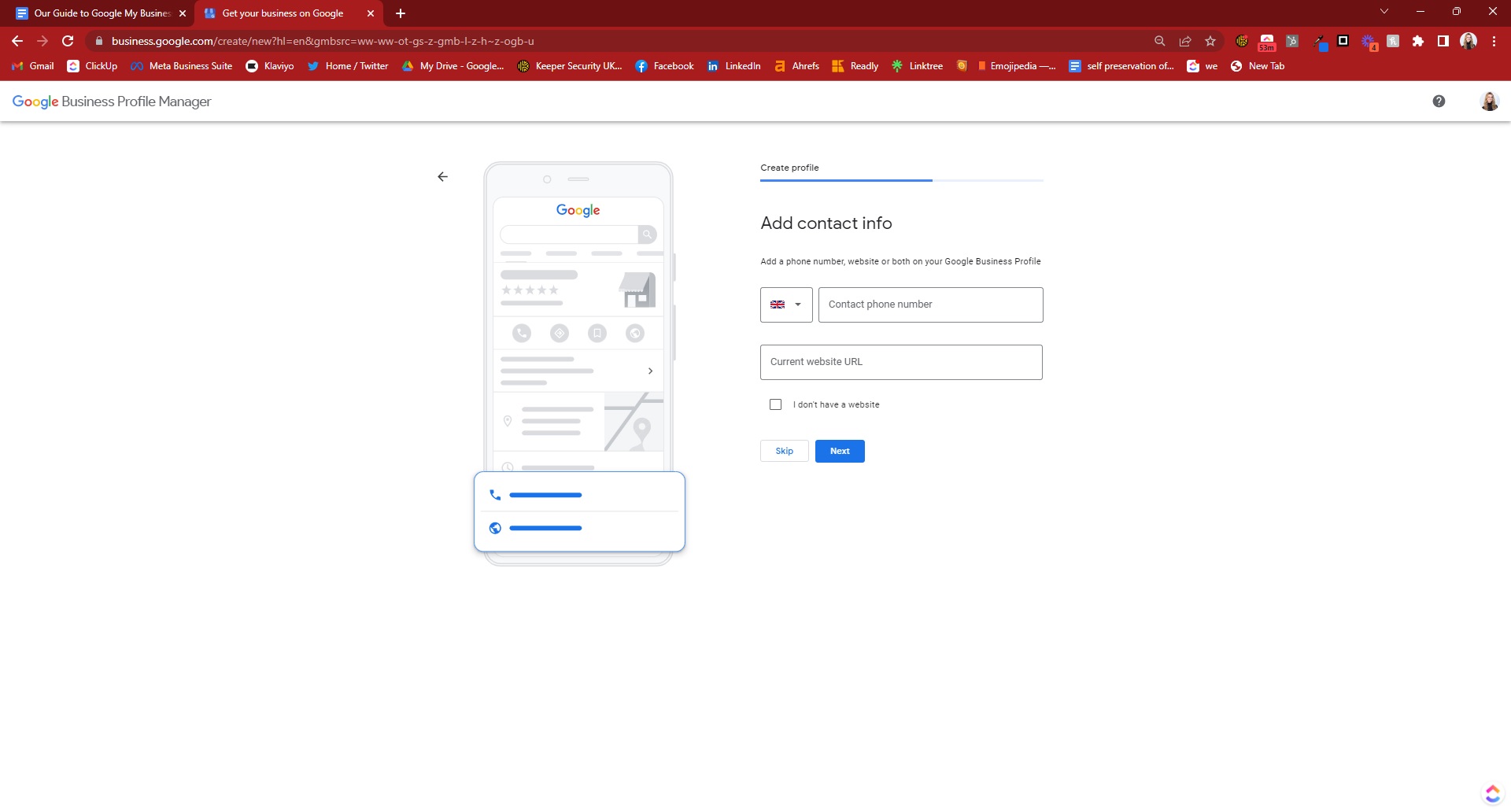 If you click yes, you will be taken to a page where you can enter the address of your business premises. You will then be asked if you offer deliveries/home or office visits, as well as how far you are willing to go. This helps to extend your location reach. You can always change these at a later date too.
You will then be prompted to add your contact details.
In order to stop fake listings and to 'help maintain the integrity of all profiles', Google then has to verify that you own the business by giving you a code. They will ask whether you want to receive the code via email, phone call or by post, just select whichever is your preference. You will be asked to verify using more than one method most of the time.
If you don't want to verify immediately or can't get the access code immediately (e.g. if you're a Marketing Exec and need a Manager to send you the code), you can select 'Verify Later' – your profile won't be visible until you verify, but you can still progress with the listing in the meantime.
After this, you have the option to add secondary categories and your opening hours. You will also be asked if you want to accept messages through Google – you will be notified of any messages via email.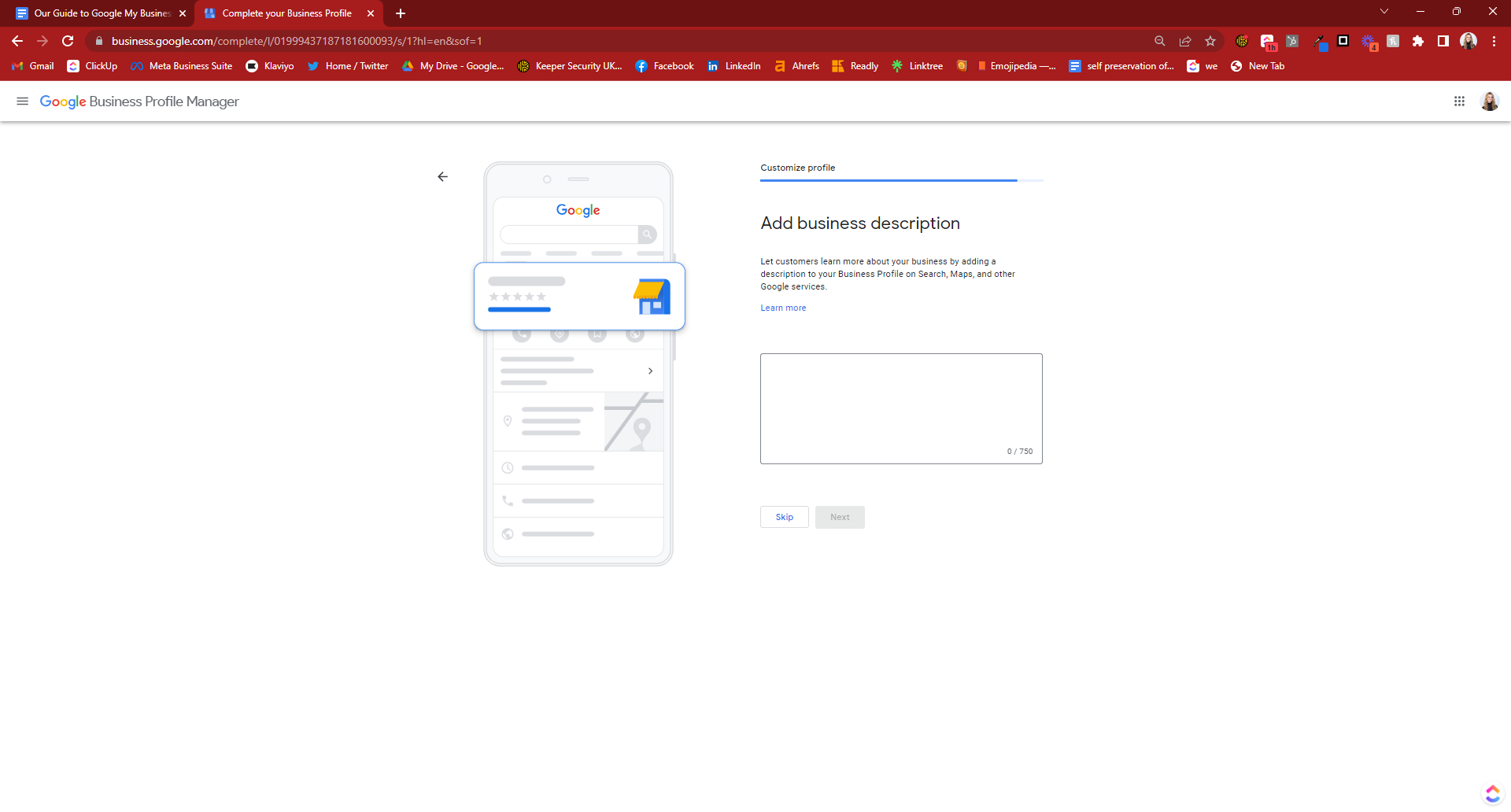 You will be prompted to add a business description, which can be 750 characters (not words) max. You can skip this step, however we highly recommend you add this as it will help for SEO purposes. Be sure to include keywords, including those listed as your primary and secondary categories, but avoid keyword stuffing. It has to look natural. 
This also needs to be unique content in order to be effective. Avoid copying and pasting from your website.
Finally, you'll be asked to add some photos to the listing. If you provide a service, Amy Toman, a Google Product Expert, recommends showing staff providing that service (e.g. if you're a plumbing company, don't show boilers, show a member of staff fixing one). She also suggests that cover images should show either a storefront or humans. Use as many unique photos as possible – they're more indicative of a business than stock images.
After this, once you've verified the business with the code, your listing will be live.
If you ever want to change details in the future, such as your categories or address, simply go onto your Business Profile, click the edit pen and you should have the option to change your details.
Verifying your Business Profile by Post
In order to avoid new fake listings, Google will send a postcard with a code on it to your address. This will also happen if you have an existing listing but change the address to a different one. Simply wait for the postcard to arrive, let your team know to keep an eye out for it and enter the code once it has arrived to validate the listing. 
If you're a Service Area Business, Elizabeth Rule, Local SEO Analyst Sterling Sky & GBP Gold Product Expert, suggests verifying your GBP listing to the address your business is officially registered at. After you verify the GBP listing, you can clear the address field so the address is not visible to the public on maps or search.
How to verify your Google My Business location without a postcard
As great as verifying by postcard is in terms of avoiding spam listings, there are a couple of issues with this – it can take five to seven days to arrive, and also if it gets lost in the post or the wrong person receives it, it can be difficult (if not impossible) to request a second one.
If, for whatever reason, you are unable to verify your location without a postcard, there are several alternatives:
Phone call/email based on the contact details you provided when setting up your account. Be wary of having an automated answering machine on your phone line as this will be an automated call that cannot 'press three to be connected to a member of the team'. You will be given a five digit code that you will need to enter into your GMB profile.

Connecting your

Google Search Console

account to your Google My Business account, which can give you permission to immediately verify the listing – however this may not work for all industries.

In some industries, you may be able to verify via a video call with Google themselves, or submit a video walkthrough of the business meeting Google's specifications (e.g. show the storefront or other employees working with you).
If none of the above steps are available or fail to work, you can submit a ticket to Google and request for them to manually verify your account. You may be asked to send photos of the business along with other evidence.
How to Claim a Google My Business profile 
two factors must be in place first
There are many reasons you may want to claim an existing Business Profile listing, for example if you're buying a business out, or perhaps taking over from a previous marketing manager.
In order for you to claim a listing, two factors must be in place first:
The existing listing must already be verified by its current owner

The current owner must add you as a manager first (if they do not know how to do this, you can send them Google's official guidance here)
There is a difference between managing and owning (claiming) a business profile. Both have slightly different levels of permissions. Below is official guidance from Google on the difference:
After being added as a manager
Once you have been added as a manager, it can take up to seven days to be given manager capabilities within GMB.
In order to claim the profile, Google the name of the business and you should see a button saying 'Claim/Own this Business?', or type it in here and click 'Request Access' then fill in the form. The current owner will be then notified and can grant you permission to claim/own the profile.
If the current owner doesn't respond within three days, Google may give you the option to claim the profile yourself. In this instance, open the original email confirmation from Google stating that you requested access. Then follow the on screen instructions to verify.
How to edit Google My Business
You can only edit the Business Profile listing if you are a manager or owner. To edit, navigate to the top right of the page again on Google, click on your profile picture and click 'Business Profile'. You will then see the name of your business and a pencil button, click this to edit.

You will then be taken to a page where you can edit every element of your business, from your name through to categories, description and contact information.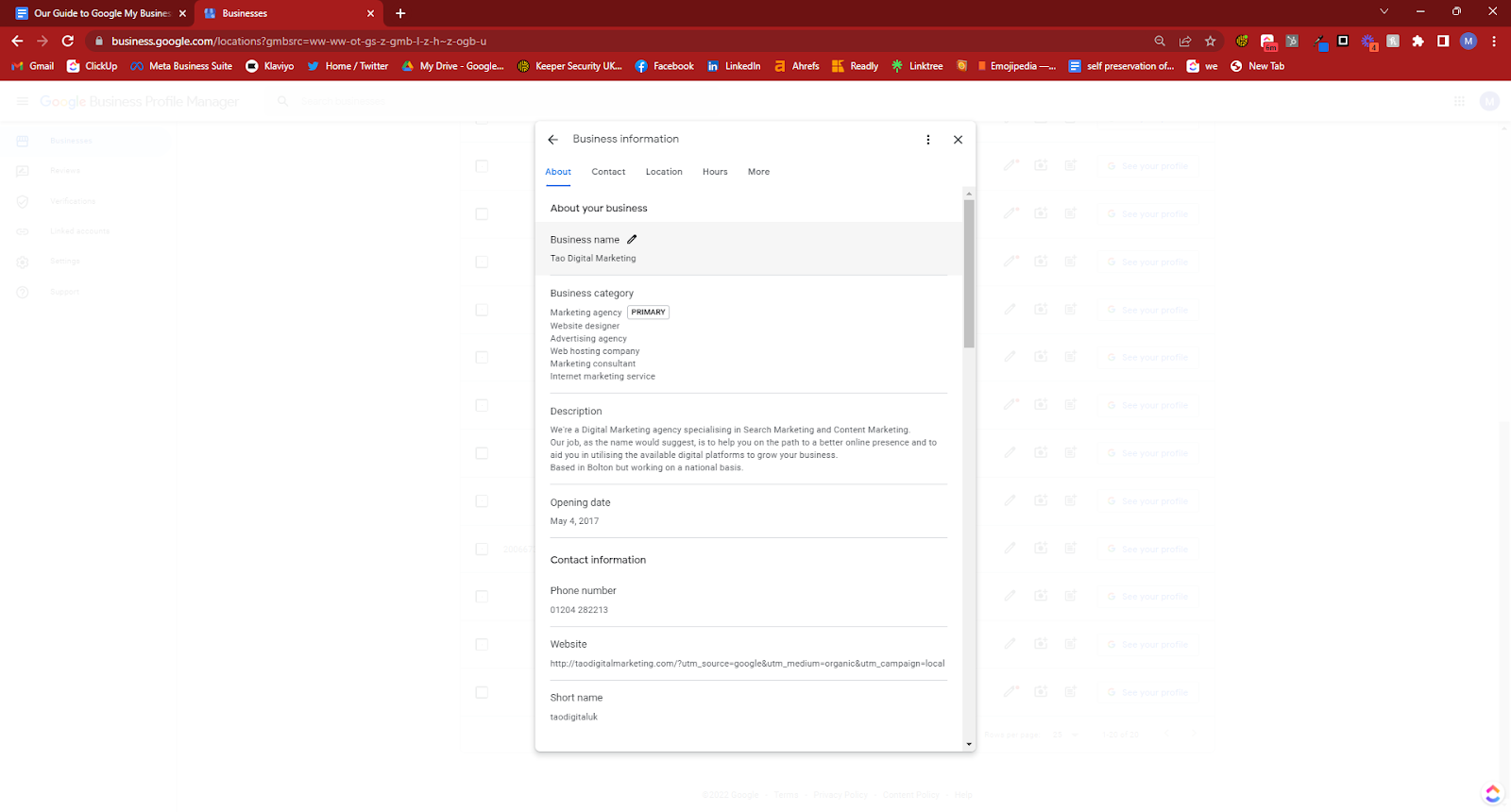 Can I change my Google My Business name?
Yes, you can. Just navigate to the editing page as above, click the pencil icon next to your name and change it.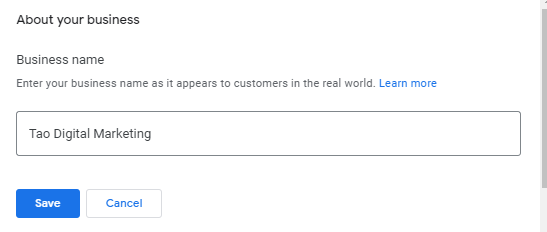 How to optimise Google Business Profile
There are many ways to optimise your business profile. The main factor to bear in mind is to make sure you fill in as many details as you can and keep it updated constantly.
Other factors to bear in mind:
Photos: Add photos on a regular basis, especially of the team whenever you get updated headshots or team members join/leave. Add photos of any new service or product offerings, too. This helps to show consistency to Google which can help you to appear above other profiles who haven't updated for quite a while.
Create regular posts: Senior SEO Manager

Abby Leigh Curtis

recommends that you should post whenever you have events to promote, offers/deals you want to advertise, featured products,  business updates (e.g. new hours or services), or even blogs. You should always include high-quality images to accompany your posts.
However, one of the only downsides of Google Posts is that you can only choose from a dropdown for the CTA button: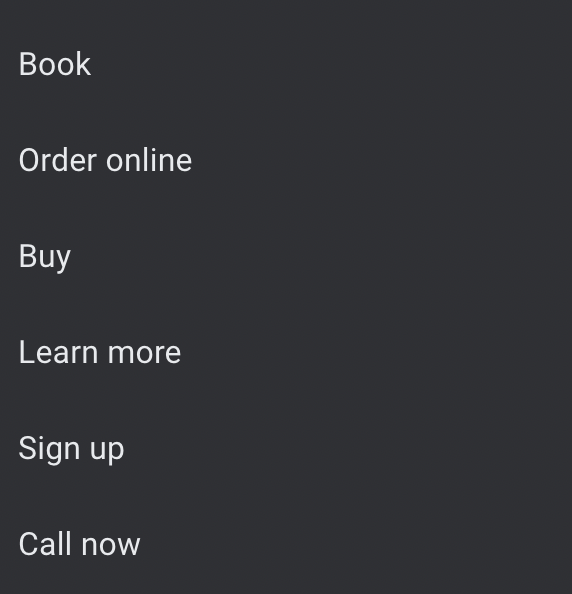 Use a local phone number: This can help to further verify that you're a local business and is an easy way to encourage customers to call you.
Add videos: Video is becoming increasingly important to Google, especially as they added video as a separate section within the Google Search Console platform. We see this as a sign from Google to show the power and importance of video for the future of the search engine. Keep them under 30 seconds long to make sure that the file size isn't too large.
Encourage reviews: Profiles with the most reviews tend to appear higher up when someone searches for your services. Ask your customers to give you reviews – this can really help you out (if they are positive, of course!).
Essentially, it's all about keeping your profile up to date, giving as much information about your business as possible and keeping the positive reviews coming in.
How to Create a Post on Google Business Profile
In order to create a post on your Google Business Profile, simply make sure you're logged in, Google the business name and scroll down a little. You should just see a large button allowing you to add a post.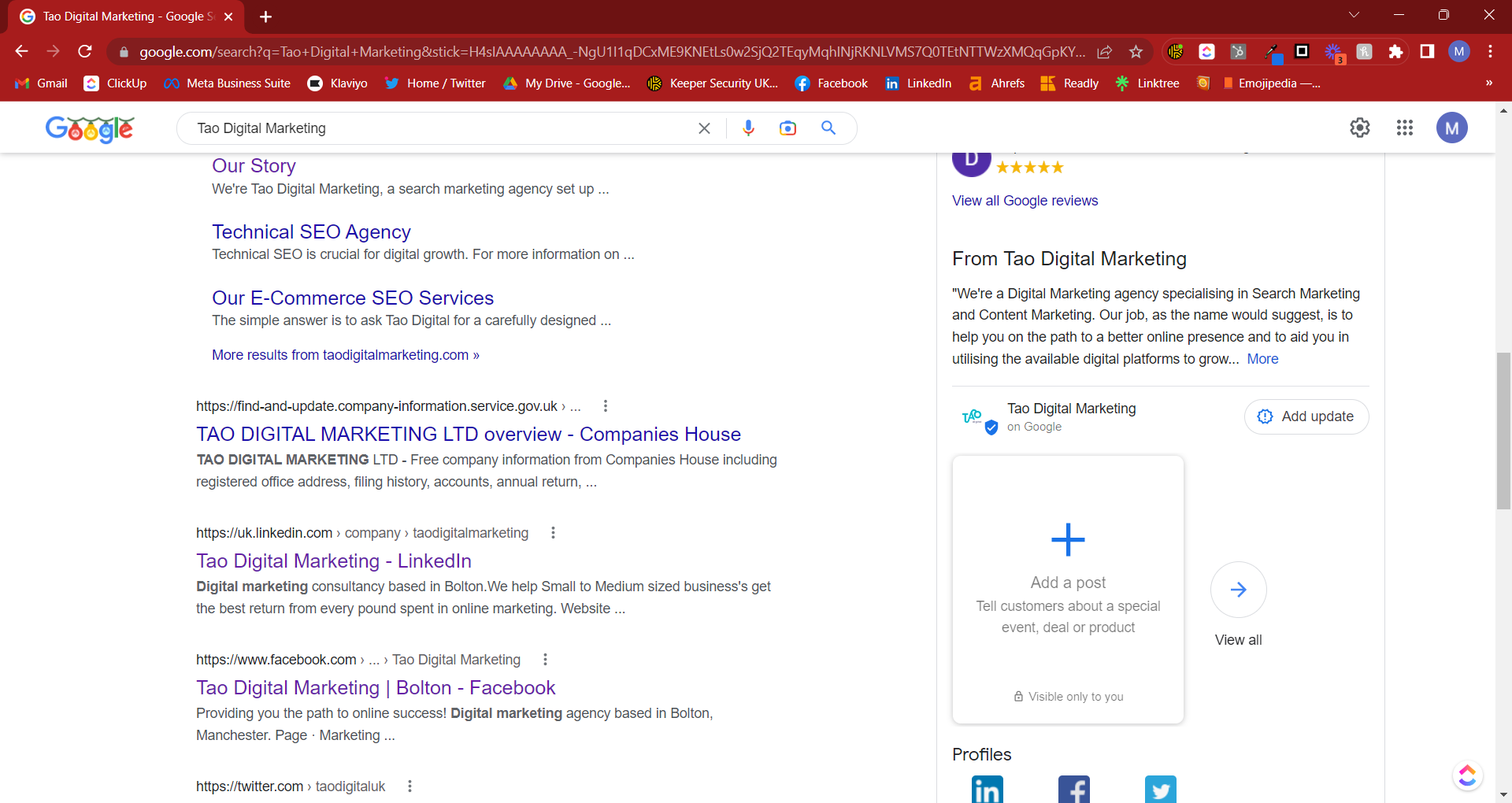 Posts do have to be submitted manually, rather than scheduled – there is no way to schedule a post directly within Business Profile Manager, however there are various scheduling tools out there that can help with this.
How to rank higher on Google My Business
Ranking higher ties hand in hand with the optimisation tips we gave above. It's all about keeping your information up to date, for example updating your hours during bank holidays or the festive period (Google often sends emails to prompt you to do this).
It's also worth responding to your Google reviews and questions to show that you're active, even if it's just to say thank you.
Your website's position in the SERP also determines how high up you will show in the listings, so general SEO for your website ties into this and is very important for more competitive search terms.
We like to use Brightlocal to help with building efforts. Brightlocal describe themselves as an 'all-in-one local SEO, citations and reviews platform'. Within the software you can build citations (linking to your GBP) that can help with your rankings. Depending on the level of membership you have, it can also integrate with your social media profiles and Google Analytics.
Boost your local SEO authority with high-quality business listings starting at £2 per site!
My Google Business Profile got Suspended. What now?
Google may suspend Business Profiles that go against their guidelines. Breaching the guidelines includes, but is not limited to:
Promoting fraudulent or illegal activities

Low-quality content, e.g. misspelling or gibberish

Content containing swearing/offensive language

Focusing on special promotions, e.g. saying that everything is on sale or constantly saying that your products are 50% off
There are two types of suspensions: a soft suspension, where your listing is live but not verified (so you can't manage and update it), and a hard suspension, where your listing doesn't show up at all.
In October 2022 there was a major bug in the GBP system where hundreds of business owners had their Business Profiles suspended for no reason. Elizabeth Rule gives the following advice:
As we have seen recently with the suspension bug in GBP that there is not much, or anything, a business owner can do to prevent a suspension. There are things you can do to set yourself up for success to get the profile reinstated as quickly as possible if it does get suspended.
Here are some tips for Service Area Businesses to safeguard themselves in case they run into suspension issues:
Verify your service area GBP to an address you have business proof for. This proof can be utility bills in the business name, insurance certificates, business registration etc. You will need to have this proof if the profile is ever suspended or disabled. Even though your address is not visible, you need to provide proof to the address you verified the listing at to get reinstated.
Service Area Businesses should never use a virtual or shared space office to verify a listing. This is a clear violation of Google Guidelines

as confirmed by Google in 2020

. 
Do not verify a GBP listing to an employee's home. You may be able to get the listing live, but without valid business proof at the address you will never be able to get the listing reinstated if it gets suspended or disabled. Plus, if the employee ever leaves you have a listing verified to an address that you now have no connection to at all.
If you have multiple listings for the same business, make sure the service areas do not overlap. Even though the service area you add to the listing does not impact rankings, if you have two SAB listings with the same service area, Google considers this a violation of guidelines and one or both listings can be suspended.
Do not show your address if you are a pure Service Area Business. Even if the competition does or you think you can get away with it, if you ever need to contact support, they probably won't help you if they notice you are an SAB with no signage that has the address showing. 
Amy Toman also adds:
Always make sure you have supporting documentation available in case of suspension; having it ready to submit with a reinstatement can cut down on the time your listing is offline.
Supporting documentation should provide a consistent story for the business (meaning the title and address, whether it shows or not). This could be insurance statements, a photo of the building with the logo of the business, your company registration number or similar. All should be from authoritative bodies, so usually not invoices. 
Once you have submitted your evidence, it takes around three working days for Google to review and clear your request.
What are labels in Google My Business?
Labels in GBP are just for internal organisational purposes – outsiders can't see them and they don't help with rankings. They must be 50 characters or less.
The main reason you would use labels is if you have multiple different locations within GBP and want to quickly search for a profile. For example, if you've got coffee shops in Bolton, Manchester and Wigan all under the same name, you may want to just label them as these locations so that you can quickly search for them. It's mainly for internal purposes.
How to add a Label into Google Business Profile 
First, make sure you're signed into Google, navigate to the Business Profile section and click 'See Your Profile'. You'll then be taken to the SERP with a summary of your profile. Click the three dots above the summary and select 'Business Profile Settings'.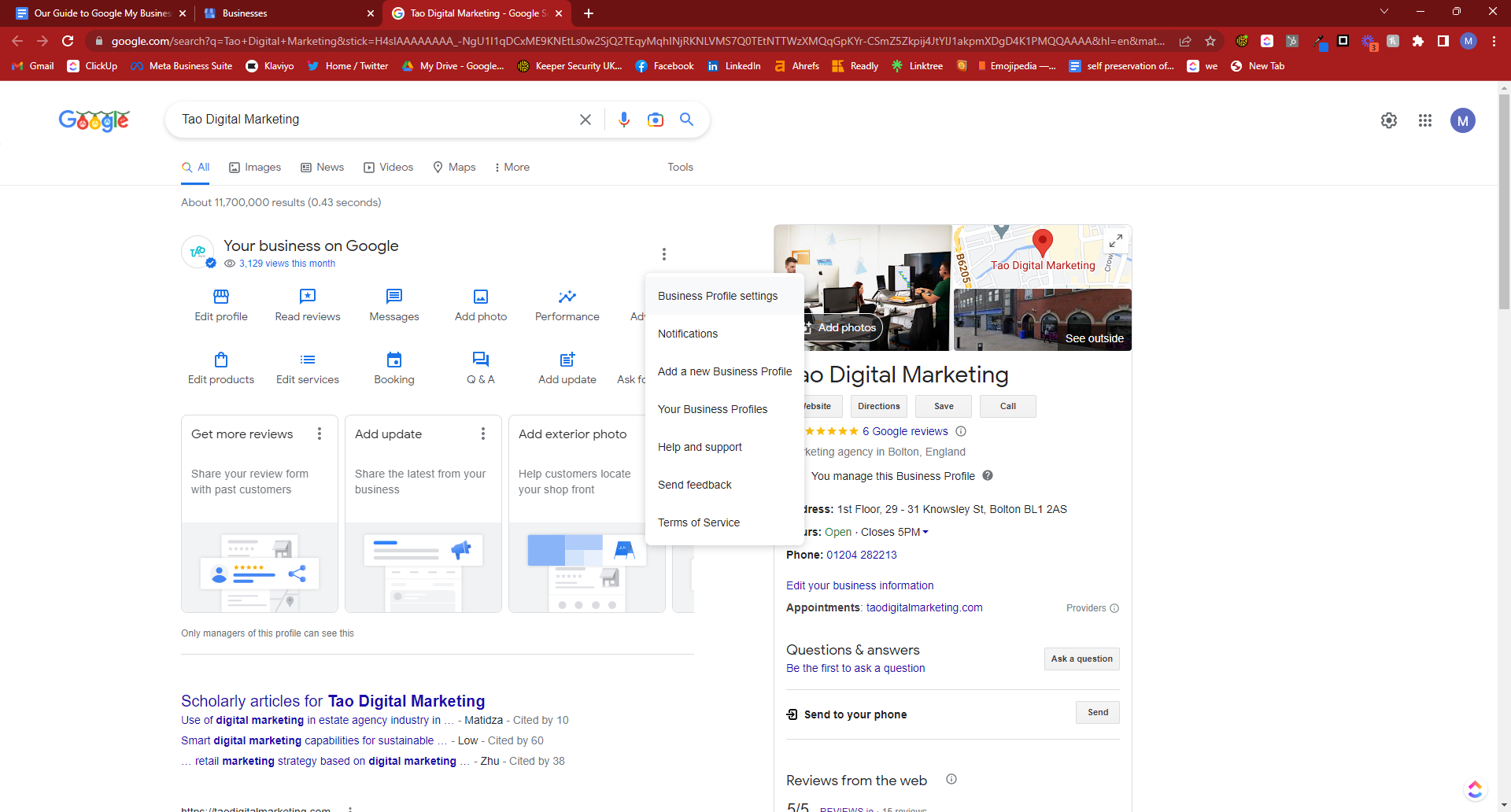 Then click 'Advanced Settings'.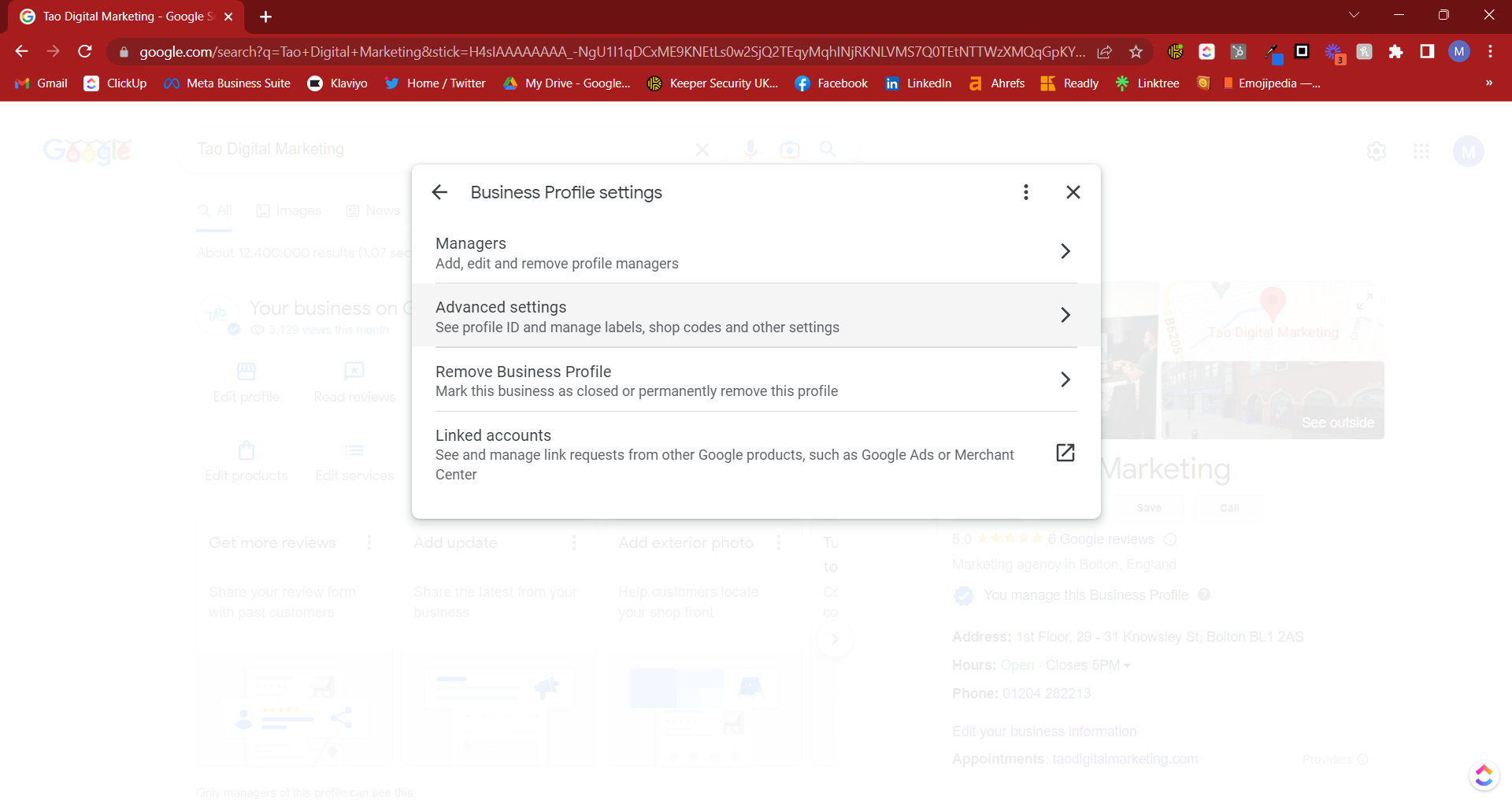 You can then add labels onto your profile.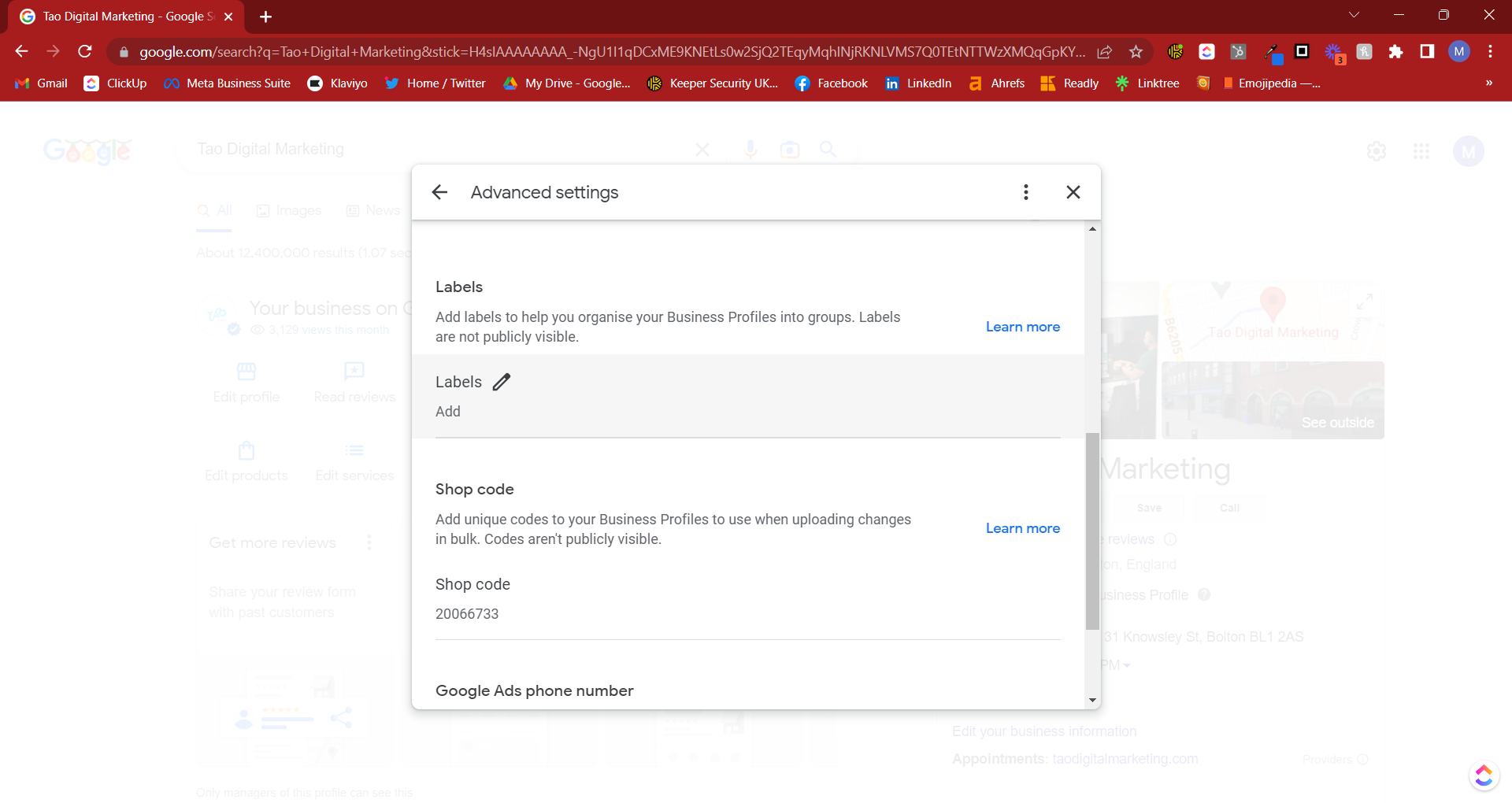 How to delete a Google My Business listing
There are multiple reasons you may want to delete a Business Profile, for example if you are selling the business, rebranding, or perhaps the listing is an accidental duplicate. You can also leave the listing live but mark it as permanently closed.
It's worth noting that the removal of a Business Profile is permanent. If you want to manage the profile again you'll need to re-verify it again using the steps mentioned earlier on.
You don't have to actually manage a business to remove it. Simply Google the name of your business/the business you want to remove, suggest an edit and click 'Close or remove', then follow the instructions on screen. This is where you would mark as permanently closed if the business is shutting down.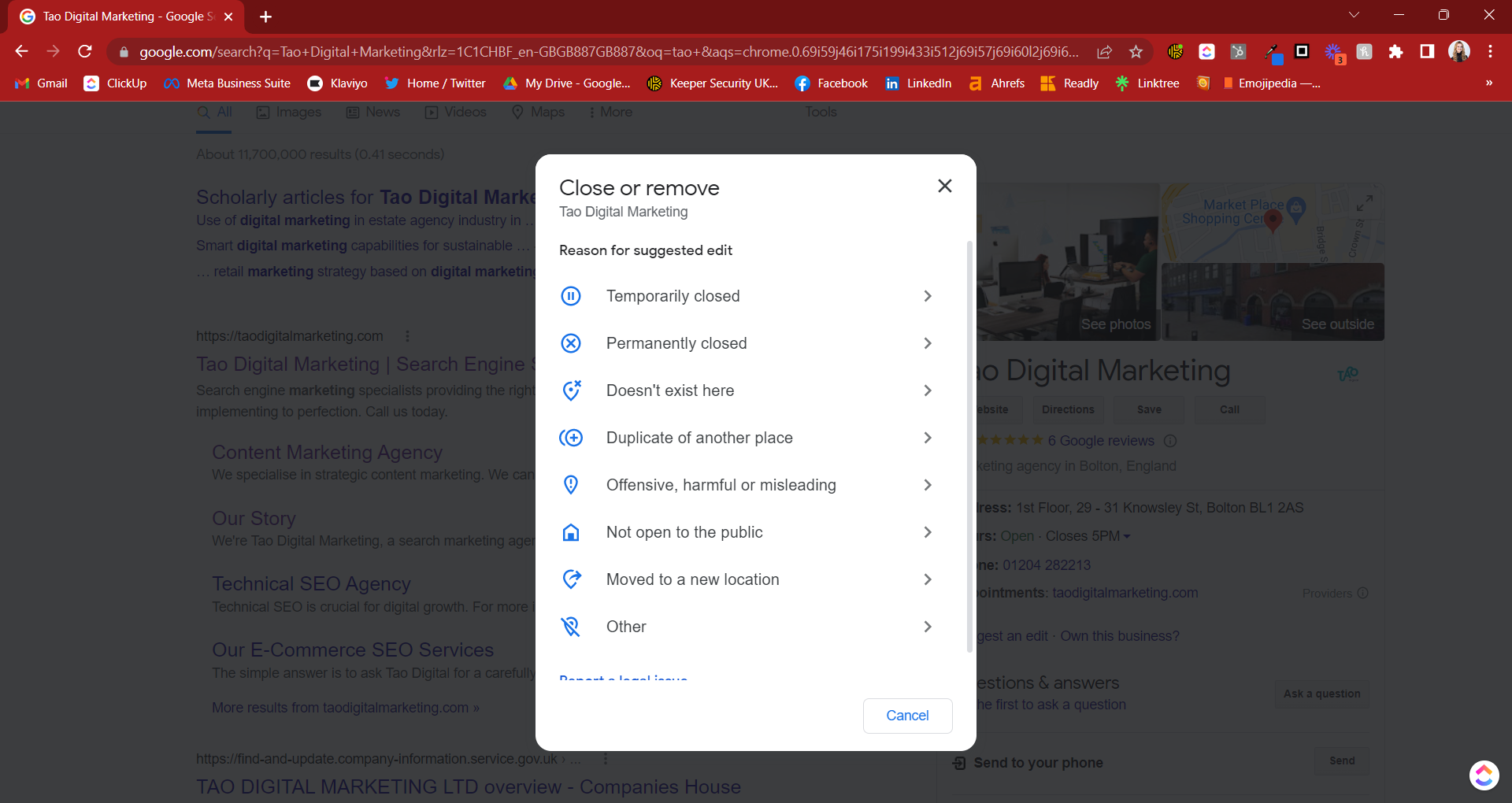 How to add Social Media to my Google My Business
There is no way to directly add your social media profiles to your Business Profile, however if they're linked to on your website, Google may add them in this way.
If people are using the knowledge graph schema to add social profiles etc. on their websites this should pick up the social profiles much easier and show them in the "knowledge" panel for the brand/company. Rank Math's helpful guide can assist you with this.
What are Attributes for Google My Business?
'Attributes' are various additional details that you can add to your profile in order to help potential customers further, for example detailing whether you offer outdoor dining or free WiFi. This can help you show up for more search terms, e.g. 'Restaurants with free WiFi in Bolton'.
You can directly add these in, however many also come from your reviews, e.g. if your customers mention that you're vegan friendly, this may appear as an attribute on your profile.
How to add Attributes to Google My Business
Navigate to Business Profile Manager and select Edit Profile, then Business Information. Select 'More' at the top.
Below is an example from one of our clients who owns a physical shop. You can see that they have detailed the sort of crowd that shops there, accessibility details, if the business is woman-owned, what sort of payments they accept etc.
Can you call the Google My Business team for support?
Google removed phone numbers from their support pages in 2019, so unfortunately there's no way to call them directly now.
For support queries it's best to go directly through their support page. From there you can select which profile you need help with, what the issue is and your contact options. 
Alternatively, you can tweet them on their support page – they're very active and respond to most queries.
Key Takeaways
Once you've either claimed a GBP listing or set up a completely new one, the key takeaways are as follows:
Make sure all your business details are up to date, especially temporary changes such as different business hours during the festive season

Respond to questions and reviews to show that you're active

Post regularly

Show the people behind the business through photos and videos
These will all really help towards local SEO and your rankings.
If you need help with your Business Profile or local SEO in general, get in touch with us today, we'd love to chat about how we can help.
Local SEO site check. Run a complete audit in minutes. 14-day free trial of Brightlocal.