Email Marketing Software: A Comparison Guide
In this guide, we've taken a look at two of the biggest platforms in the email marketing space (Klaviyo and ActiveCampaign) and explained how they work, their top features, price and more.
How Email Marketing Helps B2B and eCommerce Businesses
Email marketing software helps both B2B and eCommerce businesses in a variety of ways, such as: 
Lead generation: Email marketing is a brilliant method of marketing and can be a great form of lead generation and direct sales.
Advertising directly to your audience: You'll be contacting people who have opted in to hear from you, so the chance that they'll convert is marginally higher than other forms of marketing, e.g. paid social ads or

traditional PR

.
Access to valuable analytics: The analytics available within email marketing platforms can provide you with really helpful insights into your audience – you can see what products/content/offers are working well, and what kinds of people are drawn to different content. Not only can this help your email strategy, it can also work hand-in-hand with your

content marketing strategy

too. 
Automation: Email marketing platforms can help you understand the user journey in more detail, but more importantly, you can set automated emails and SMS campaigns based on certain trigger events.
Klaviyo
What is Klaviyo?
Klaviyo is a US-based marketing platform used primarily for email and SMS marketing. Their mission statement is to 'help businesses grow with real-time data learnings for marketing campaigns through email and SMS marketing campaign automation.'
The platform largely focuses on eCommerce due to the customer-focused analytics it provides, which we'll dive into further in the top features section. We personally use the platform for our eCommerce clients plus a couple of our own projects.
How Klaviyo Works
Klaviyo works by connecting to your online store as well as other tools, providing in-depth data about your customers and their buying journeys.
Once you log into the platform you have an overview of how your campaigns are performing – example pictured below. You can see how well your 'flows' and campaigns are doing, and from there you are able to navigate to your campaigns, analytics, audience etc.
Within the campaigns section you can view your most recent campaigns as well as see a top level overview of their success, including open rate, click rate and how many of your subscribers are currently active on the site (if you have web tracking enabled). From there you can create either an email or SMS campaign, which can be sent now or scheduled for later.
There is also an analytics section where you can review how your campaigns are doing, which allows you to continually optimise your emails.
Top Klaviyo Features
There are various features that we enjoy about Klaviyo:
Segmentations: we really like how customisable the segmentations are within Klaviyo, in particular being able to segment customers when they were last active on the site or when they last opened a campaign from us. This has made it very easy to clean up our lists via 'reengagement' and 'sunset' campaigns.
This is something that we believe makes Klaviyo stand out compared to other platforms – within ActiveCampaign, for example, at the time of writing (February 2023) there is no way to filter contacts who haven't opened campaigns within a specific timeframe. 
You can also segment by 'interests', e.g. for our footwear client we have been able to segment which email subscribers have visited pages under the category of 'workwear', 'mens' and 'womens' so that we can send campaigns specific to them.
Design templates: We really like the wide variety of design templates within Klaviyo's 'Drag and Drop' editor, some of which look quite complex design-wise but are very easy to customise. You don't have to be a world-class graphic designer to put together a decent looking email.
Although through the many emails we have sent we have naturally come across some technical issues with design (e.g. the whole design shifting if we move a block slightly), we have been able to resolve these issues quickly with the support team's help.
Subject Line Assistant: Klaviyo has a built-in subject line assistant that can help you to nail your subject lines based on your previous campaigns. It can also generate subject lines for you based on the goals of your campaign, e.g. promotions/product announcements/newsletters etc.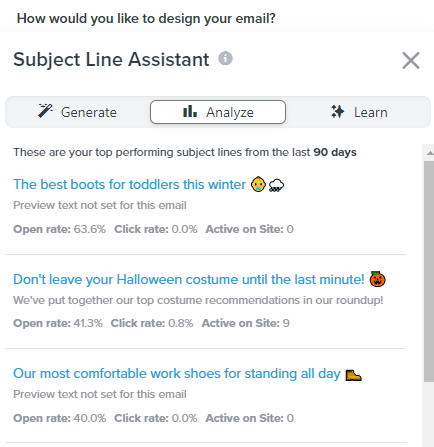 Audience breakdowns: Another great feature is the audience breakdown within campaigns. You can see which lists open your emails the most, and tweak your strategy accordingly.
We love how in-depth you can get with the audience analytics. This is Klaviyo's real strength and the reason we prefer to use this platform for our eCommerce clients. Within each customer's profile you can get a historical overview of when they first ordered, the average order value and how likely they are to order again. This can help you clean up your lists by identifying customers who ordered a long time ago or are unlikely to become repeat customers.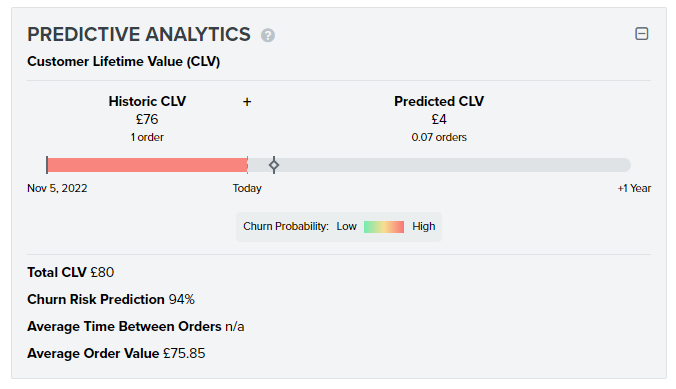 Customer Service 
The customer service that we have received from Klaviyo is top notch. When we first started using the platform there were a few teething issues that their written guides were unable to assist further with, so we used the live chat function. 
Although there is a bit of a queue (the longest we've waited is around 90 minutes with 40 people in front of us), it's still a very quick turnaround time from request to solution. This is a much shorter response time than other platforms.
Even though the live chat support is listed as open between 9am and 5pm EST (so 2pm to 10pm GMT), we've often sent requests earlier than this and still received an answer. Please note that the live chat feature is only available to paying customers – those on free accounts only have access to email support, so will need to wait longer.
Difficulty Level
If you're a complete newbie to email marketing, we'd give this platform 3 out of 5 stars for difficulty, the reason being the teething problems that we ourselves experienced when we first started using the platform (e.g. technical difficulties and design issues). 
Segmenting and flows can also take a while to get your head around, but their guides are very useful and once you're more familiar with it, it's a great beginner platform. If you're more experienced with other platforms, we'd give the difficulty 2 out of 5.
Klaviyo Price
The cost of Klaviyo depends largely on how many contacts you have and/or how many emails you are looking to send each month. Please note these are subject to change and the GBP equivalent may be incorrect depending on the value of the pound at the time of reading. For the most updated version, take a look at Klaviyo's guide with live costs.

Active Campaign
What is Active Campaign?
ActiveCampaign is a US-based cloud software platform encompassing email marketing, marketing automation, sales automation and CRM categories. For the purpose of this blog, we're going to focus specifically on the email capabilities of the platform. We prefer to use this platform for our own marketing and for our B2B clients.
ActiveCampaign's aim is to help you 'reach your audience through the power of automation without sacrificing personal touch.'
How Active Campaign Works
ActiveCampaign works through a combination of site tracking, app integrations and AI. Through all of this integration you can get a huge amount of data about those who have signed up to receive your email marketing.
Similarly to Klaviyo, when you log into ActiveCampaign you have a dashboard that gives you a general overview of your contacts, campaigns and recent activity. We really like the 'Top Contacts' feature, which shows those who have opened/engaged the most with your campaigns.
The campaigns section gives you an overview of your most recent campaigns, as well as some handy links to best practices (it's always good to have a reminder!).You can also manage and create custom design templates from here.
The reports section is where you will find all of your analytics, including campaign data, automation reports, goal reports, contact reports and much more.
Top Features of Active Campaign
There are some great features that we enjoy using within ActiveCampaign, such as: 
Tagging: Similar to Klaviyo's segmentation feature, you can set up 'tags' that will automatically be added to contacts based on certain behaviours, e.g. if they have entered their email to download a PDF guide or have even subscribed to our YouTube channel.
We're a fan of their 'tagging quiz' which lets you know whether a tag is necessary when setting a new one up – this can help to avoid tonnes of unnecessary tags that are never followed up.
Email deliverability checks: When you send your first few campaigns within ActiveCampaign, one of their team members will check them before they get sent out to see if they are compliant.
The platform is top of the list when it comes to compliance – they're members of top industry groups, for example M3AAWG, and platforms such as TrustRadius and G2 have given them praise for compliance. Their guides on this are incredibly helpful.
Free onboarding and migration: we believe this is a top feature of ActiveCampaign in comparison to other platforms and is a great help for beginners. It's like being part of a community who are committed to your success.
The platform offers free small group digital onboarding sessions from their Education Team, which can help you to get up to speed quickly and have any questions answered. Other platforms, such as Klaviyo, rely more on guides and checklists to get you up to speed.
Free training: ActiveCampaign's Education team provides 'Blueprints Sessions' hosted by highly trained members of their team, in several different languages and across different time zones. They also offer 30 minute one-to-one meetings.
Customer Service
The response from the support team takes longer compared to Klaviyo and Hubspot. On their Contact Us page, it appears they once had a live chat but have since removed it as the link isn't working (January 2023). It also isn't easy to navigate to the contact page compared to Klaviyo, who always have the option in the top right of the platform.
Whilst the chat function has been down we have submitted support requests via email, which can take up to five working days to receive a reply if one of the support team is on annual leave – this was our experience recently.
They are, however, able to resolve the issue quickly and usually ask for a Loom video of your screen to get a real understanding of the issue at hand so that it can be solved ASAP.
Difficulty Level
If you're new to email marketing, we'd give ActiveCampaign 3.5 to maybe even 4 stars to get your head around on your own. Booking in for a one to one and taking advantage of their free training can bring this down to a 2.5, the same level of difficulty goes for those more experienced.
The main downfall we have with ActiveCampaign is that the design templates are quite basic compared to Klaviyo, so you do need some level of understanding of design and what elements you need to move in order to get the look you want. However, the free training and customer service is above and beyond the other platforms in our opinion!
Active Campaign Price
Again, the cost largely depends on how many contacts you have, and/or how many emails you are looking to send each month. It also depends on the features you want in your account, so there are Lite, Plus, Professional and Enterprise options.
As the costs are so bespoke depending on what you want from the platform, it's best to visit Active Campaign's page, which will give you the most up to date information. We've added a screenshot below of an example of the costs for 1,000 contacts.
Which email marketing software is the best?
To use a marketer's favourite phrase, 'it depends'! The platforms are equally good for different reasons. If you're in the B2B space, Active Campaign would be your best choice as Klaviyo is certainly more catered towards eCommerce, especially with its Shopify integration. 
If your goals are more towards easy customisation, Klaviyo may be a better option for you. From our own experience, their templates are much easier for a beginner to familiarise themselves with.
If you're looking for a great onboarding experience, Active Campaign may be better for you due to their onboarding process, one to one sessions etc. It all depends on what your needs are.
We recognise that there are pros and cons to each and we use each platform for different clients!
If you'd like to speak to us about email marketing, you can contact us below – we'd love to chat about your strategy and how we may be able to help you.