How do Digital PR and SEO work together?
When John Mueller tweeted about the importance of digital PR in January 2021, #DigitalPR Twitter went wild.
Finally, we had gotten a very clear nod from the brains at Google about how important telling your brand's story is.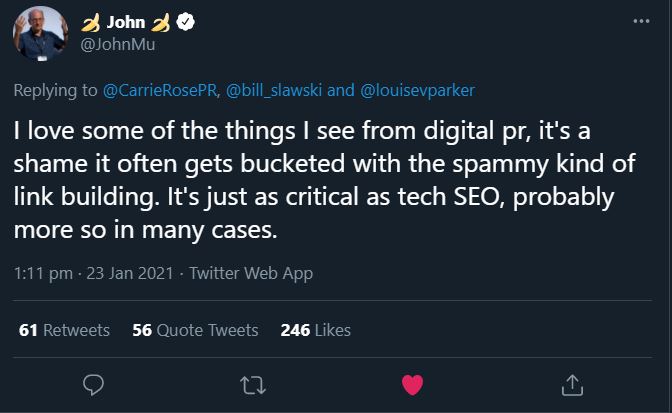 This caused a bit of confusion in the community about what digital PR actually is. So, we're here to explain!
What is Digital PR?
Digital PR means to build your online presence and brand awareness.
Essentially, create something worth linking to – whether that's a study you've done about your industry, an interactive map, data sorted by region, fun content, a case study etc.
These links, in turn, increase your domain authority (moz.com) or domain rating (ahrefs.com) – AKA how authoritative your site is.
This is typically rated on a scale from 0-100 by different tools that us marketers use.
The theory is, the more authoritative your site is, the better you rank on search engines as they want to show the most trusted voices first in the results.
Digital PR and SEO: how are they linked?
Digital PR and SEO are intrinsically linked. As mentioned above, links built to your site will boost your domain authority, meaning your rankings will improve.
You could have the most informative pieces of content in the world, but if your domain rating is low, you won't see the traffic you deserve.
The domain rating of the sites that link to you is also important. Those with high domains tend to only link to other reputable sources, again showing search engines that you're a thought leader.
Think about this in real life situations – if you get a product recommendation from someone you know and trust, you're more likely to believe it is good quality as it has their seal of approval.
Digital PR can also improve your keyword visibility.
For example, if you're a recruitment agency and you create a campaign about the most popular month for job searches, the sites that use your content will help you to boost your rankings for terms relating to this.
Obviously, this is relevant to your industry and will therefore help boost your overall rankings too.
Campaigns have to be relevant to what you do already – journalists will be confused if a pet shop creates a campaign about the rise and fall of mortgage prices!
Plus, search engines can potentially penalise you for creating far-fetched and irrelevant content.
What are the benefits of Digital PR?
The biggest benefit you will see from digital PR is an increase in domain rating/authority, but don't underestimate the additional benefits of brand awareness, traffic to your site and even more business coming your way.
For example, an SEO case study we did for Moz about our work with Fleetcover lead to the following:
Referring domains for Fleetcover almost doubled from 74 to 163 within a week, boosting the DR from 13 to 20…

The piece became the 6th highest trending content WORLDWIDE in the SEO community the day it went live…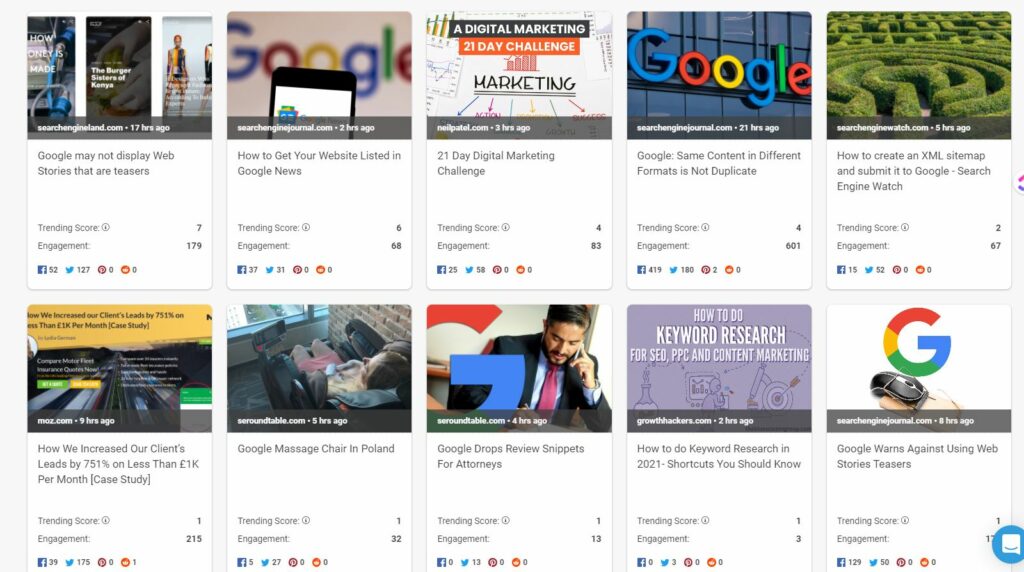 And we got various shoutouts from Moz on their social media – our Twitter went a bit crazy after being showcased in front of their half a million followers!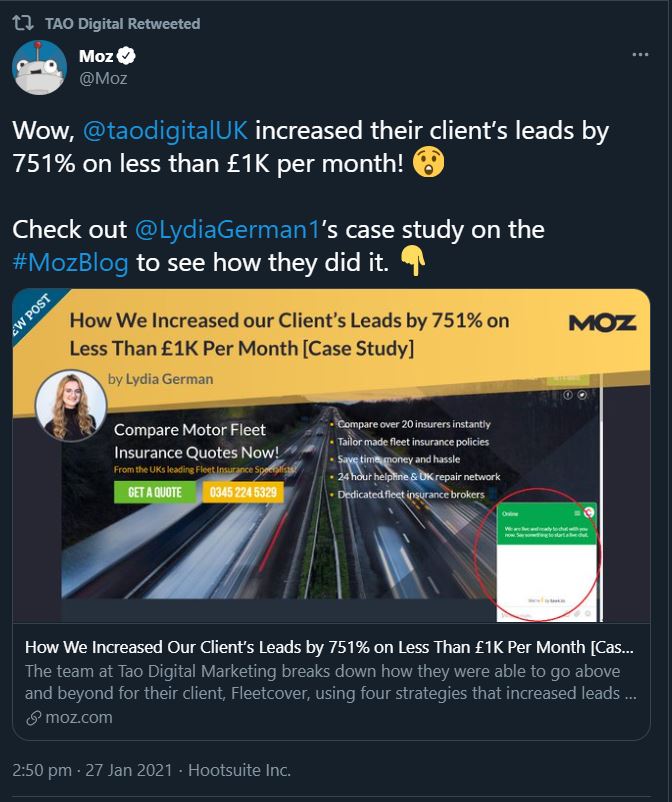 We also had an international enquiry about working with us, so not only did this work wonders for our site and brand recognition, we could potentially be getting work out of it too. Watch this space!
Moz has a domain authority of 91, making them one of the highest rated sites online. Many marketers would burn money trying to get featured on there, and all we had to do was tell our story – the magic of digital PR.
Digital PR and outreach
Outreach is essentially how you get your digital PR campaigns out there. Once the story/study/graphics are live on your site and ready to go, you then create an outreach list full of journalists you want to send the story to.
This can be done using a simple Excel spreadsheet to track details and progress or by using helpful tools such as Buzzstream.
Different experts will tell you different ways of outreaching pieces to achieve optimal open rates and replies, but the truth is, we don't believe there is a perfect time (unless it's a Friday afternoon – don't bother!).
Different journalists work to different times, and if your subject line is interesting enough, they're likely to click through. Plus, if you have already established a relationship with a journalist, you definitely get more leeway in terms of when you can send it as they already know who you are.
What is 'newsjacking'?
Newsjacking, or 'reactive PR', is the most fast-paced form of digital PR and involves providing an expert comment to news or trending topics.
For example, we have outreached various comments from business brokers Hilton Smythe in reaction to various Government changes to business rates, extension of the furlough scheme, news about Boohoo acquiring Debenhams, etc. Essentially, it's all about providing that expert voice.
The exchange works both ways – you provide journalists with an expert voice, and in turn, they *hopefully* link to your site.
The question of how quickly you should do this is something which varies depending on who you ask.
Some would say anything over 30 minutes of the news breaking is too late, but we have had success with sending a comment a couple of hours later.
How does data tie into digital PR?
Data heavily ties into digital PR.
If you are not releasing a special, limited-edition PR-stunt product or creating an interactive quiz, you'll likely be using some form of data.
In order for the data to be newsworthy, it has to relate to a mass audience, or else news outlets just won't cover it as it's too specific.
How can you make your industry relevant to a mass audience?
If you're an insurance broker, can you look to popular TV shows and films and quote how much it would cost to insure certain items?
Or, can you incorporate one of the following emotions into your data?:
Funny – will the data make people laugh – is it a bit out there?
Shocking – can you reveal something people don't know about where they live across the country, e.g. crime rates?
Gross – this is perfect for cleaning brands (did you know your work desk, where you are sitting right now, contains 400x more bacteria than a toilet seat!?)
Scary – can you reveal something rather worrying?
Love – can you make people go 'aww', or feel a sense of pride or joy?
When sending out a PR campaign, it's really important to contain notes about your methodology, AKA how you went about getting the data, how you organised it, how you split it up to calculate certain aspects, etc.
If you miss this out, journalists will be a little suspicious of your data and can ask questions, or even ignore your outreach if you aren't transparent from the get go.
How to improve the success of your digital PR campaigns
There are several factors that can make or break your PR campaigns. After outreach, it's important to reflect on each of these aspects and see what you can improve:
Timing: Yes, we know, we mentioned that timing isn't as important as some say, but if you're sending them out all at once on a Friday afternoon, maybe reconsider your methods.
Some programmes, such as Buzzstream, allow you to schedule outreach for a certain time, or break it up across a period of time so that you can see when your emails are getting the most opens.
The angle: The angle can change everything. If you notice your campaign isn't really getting picked up, change the angle a bit and see what happens.
Make sure your landing page is worth linking to: if a journalist can describe your data without you needing to see it to understand, they will!
Make sure it's something interactive – e.g. type in your postcode to find data for your area, play with the graphics on the site, etc.
Don't waste time: if you're doing a reactive PR campaign about how much certain things in a trending TV show would cost, make sure you get it out there while the show is still trending.
We know, it can sometimes be hard to cut through approvals tape, but the sooner you can get it out there, the better. A few days late and you're better off waiting until the next season.
Think, would I actually share this?: if you wouldn't click on it and read it, why would anyone else? It has to be interesting.
If you're finding ideation hard, sit on it for a while. Our team finds that PR ideas come up at the most random times.
How is the success of digital PR measured?
There are various ways of measuring the success of your efforts depending on what your goals are. Common ways of measuring success include:
The amount of links you get: you could have a goal of a certain amount, but it's important to remember that coverage is NOT guaranteed each time.
Online readership: what is the total combined online readership of the sites you got coverage from?
Social media shares: how many people have shared your content on social media sites?
Average domain authority: what is the average DA/DR of the sites you got coverage on? The higher, the better.
Increase in domain authority: this goes hand in hand with the above point – hopefully, you want to see your rating improve over time as a result of coverage.
Web traffic: how much traffic came to your site from the coverage? (Referral traffic)
Conversions/goal completions: if you've made a new PR-stunt product that people can buy, how many people bought it and how much revenue did this bring? Or did people simply sign up for your newsletter?
This will vary from client to client and depends on other factors such as budget, timescale, existing relationships with journalists, etc.
The more experience you have with digital PR campaigns, the more realistic your goals will be as you understand what can be achieved on a certain budget or time scale.
Digital PR for startups
Digital PR can be both a costly and time-consuming process.
If the industry data doesn't exist publicly and you need to submit a Freedom of Information request to those who have the data, you can be held up by weeks.
Or, if you're doing a survey, prepare to let go of a couple of thousand pounds in the process.
Analysing data also takes a lot of time, as well as creating infographics or an interactive page on your site.
This can put a lot of businesses off investing in digital PR until they have more money.
But it's a bit of a double edged sword – to get more money through your site, you need to rank better and invest in those authoritative links, AKA digital PR!
The key to having a news-worthy campaign, then, is using your own data.
When you're so involved in a business day to day, you can forget certain aspects or interesting statistics you can get hold of.
Again, if you're an insurer, do you have any funny claims stories you can tell? Or are you starting to see new trends in your industry?
This unique content can be a great starting point for a campaign.