The REAL Winners Of Love Island 2019…
So, to many people's surprise, Amber and Gregg have won Love Island.
£25,000 each isn't too bad, is it?
But whilst the winners are cashing in on their prize, it is the brands sponsoring the show that can be seen as the real winners of Love Island.
The Love Island Effect
Regardless of your feelings about it, Love Island does one thing very well; it captures the attention of the general public and captivates millions of people every night.
And as we all know, when you have the attention of the masses, you have the ability to influence and drive action.
Love Island stopped being a regular TV show along time ago and can now be seen as the ultimate advertising platform for brands.
When speaking on ITV's relationship with brand's, Kelly Williams, Manager Director of Commercial at ITV, states "We harness emotional connections to deliver business results."
Brands have now started to see the huge potential with aligning with the stars from the show and the Love Island brand itself.
This year, many brands have coupled up to form a Love Island partnership.
Find out the real winners of Love Island below!
1. Uber Eats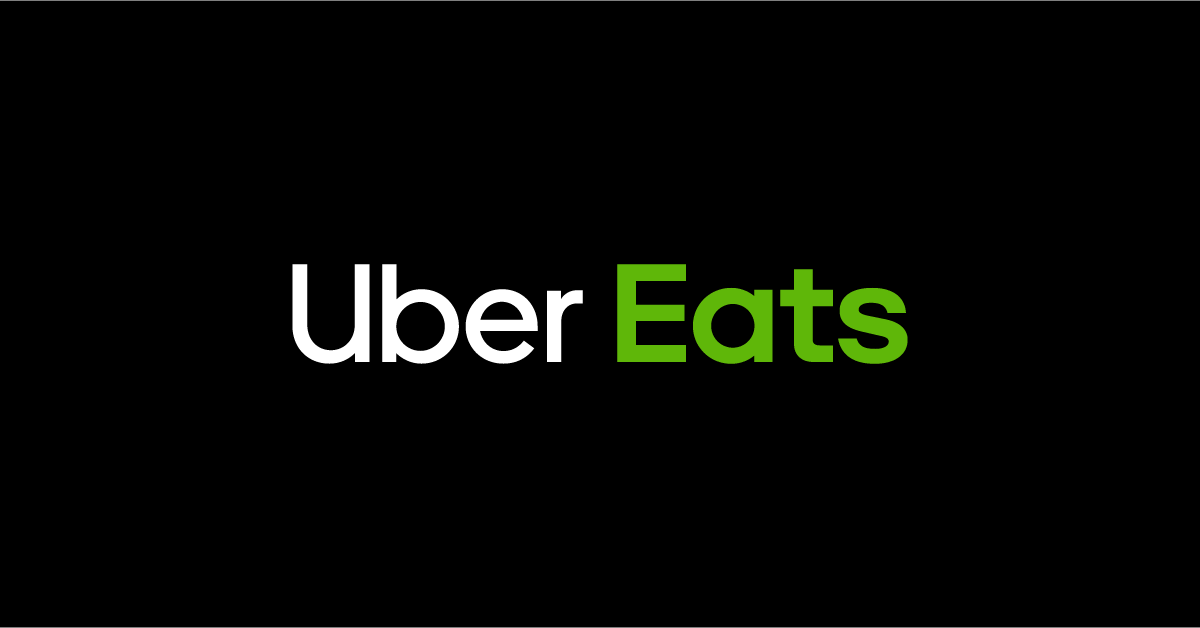 Image from: https://about.ubereats.com/
If you've been watching Love Island attentively this year, you will have no doubt seen the Uber Eats adverts peppered before and after the show.
Like many other brands in the past, Uber Eats has become one of the official sponsors for Love Island, with rumours suggesting that the food delivery service paid a whopping ​£5 million for the placement.
What's the Product?
Uber Eats is Uber's very own food delivery platform that makes it easy for you to get you food from local restaurants delivered to you.
The taxi firm, Uber, diversified into the food delivery market a few years ago and now have rivalled the likes of Just Eat.
Love Island's presenters, Caroline Flack and Iain Sterling, can be seen in the TV commercial's, making great use of common themes within the show.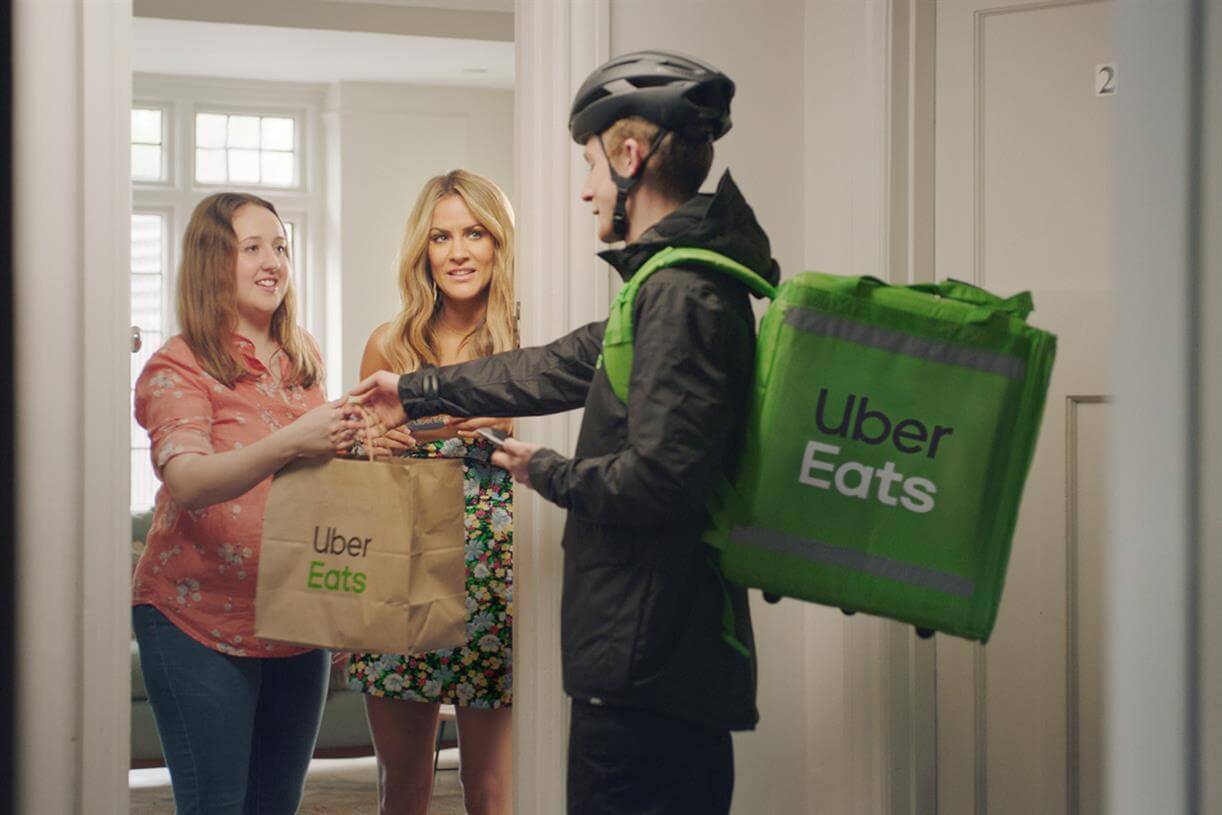 Image from: https://www.campaignlive.co.uk/article/uber-eats-hungry-love-island-mother-london/1586575
As well as TV advertisements, Uber Eats strategy stretches across social media sites like Instagram, Youtube and Twitter.
2. Samsung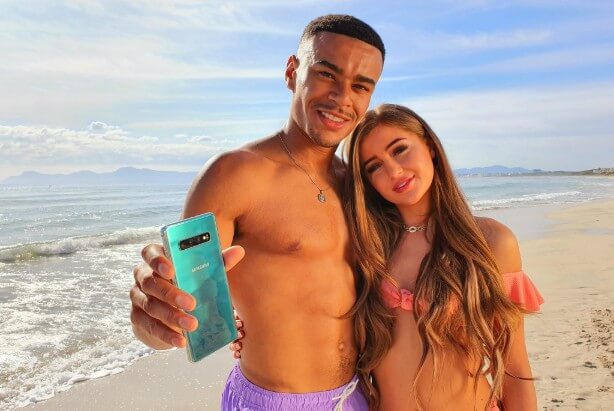 Image from: https://www.prweek.com/article/1586297/watch-former-stars-help-illuminate-samsung-love-island-sponsorship
For the second year in a row, Samsung Electronics has partnered up with ITV to promote their products through Love Island.
Samsung recently teamed up with previous Love Island stars, Georgia and Wes, to promote their new device through a marketing campaign.
Throughout the previous series of Love Island, you will have no doubt seen the 'I've got a text' moments.
This is where the producers inform the stars of upcoming tasks and give information to them within the villa.
What's the Product?
The famous 'I've got a text" scenes have become a perfect way for brands to advertise their phones to a huge millennial-based audience.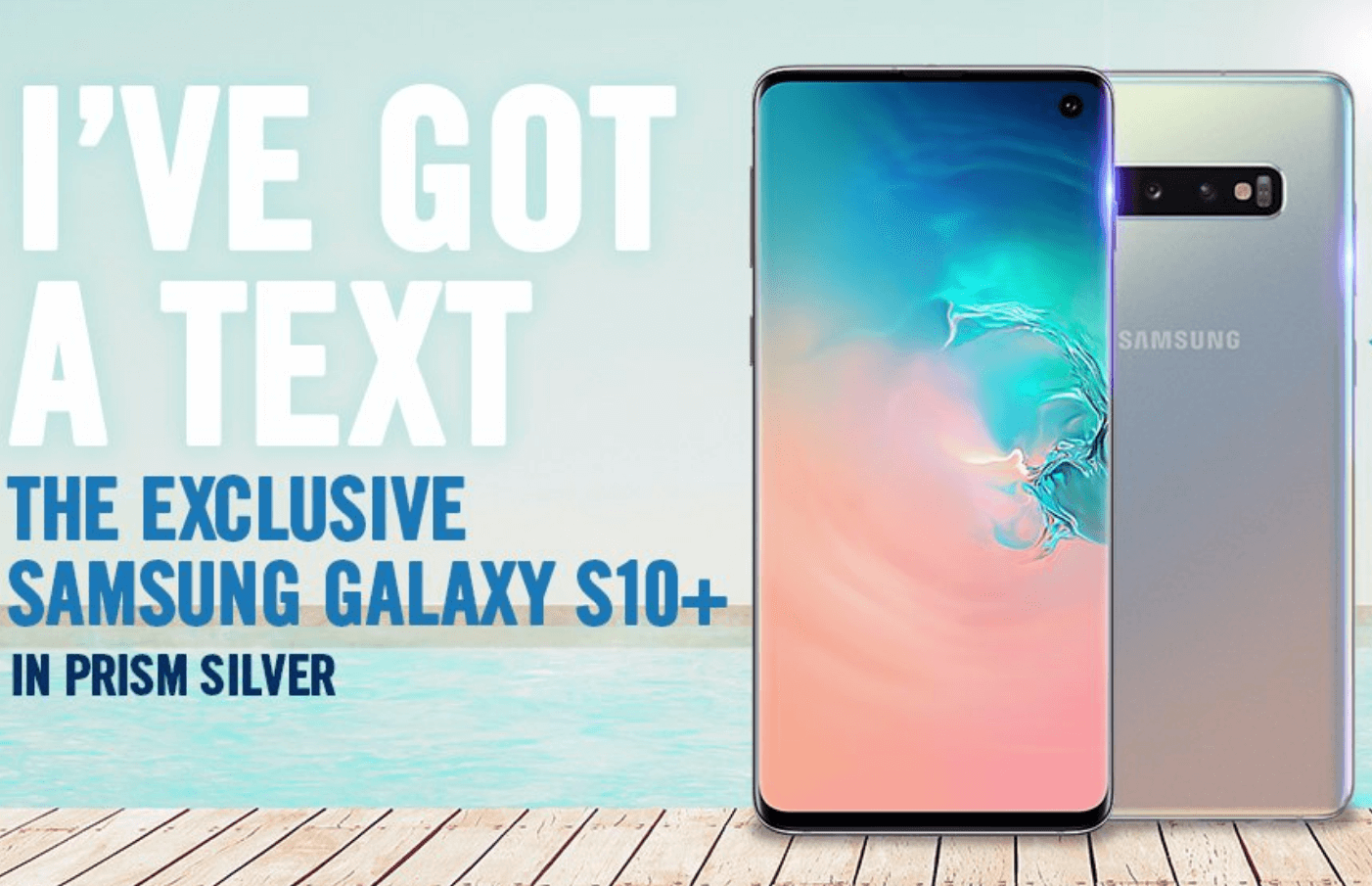 Image from: https://twitter.com/CPWTweets/status/1153658554504622081
Samsung picked up on this last year and signed a commercial deal for the cast to only use Samsung phones in the villa. 
This year the Samsung Galaxy S10+ has been the star of the show, frequently being used by the contestants to take pictures in the villa (uploaded to social media) and receive information from the producers.
Samsung's partnership is also prevalent on social media, where they use footage and images from Love Island to create meme's/gif's (whilst making sure to promote their phones).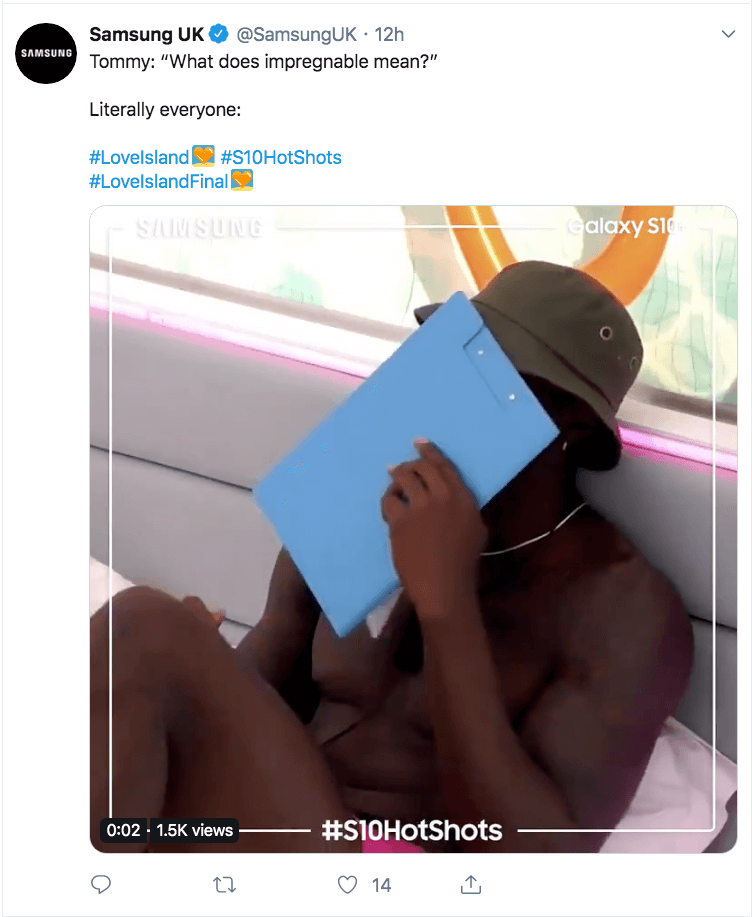 Image from: https://twitter.com/SamsungUK/status/1155935742268284929
3. I Saw It First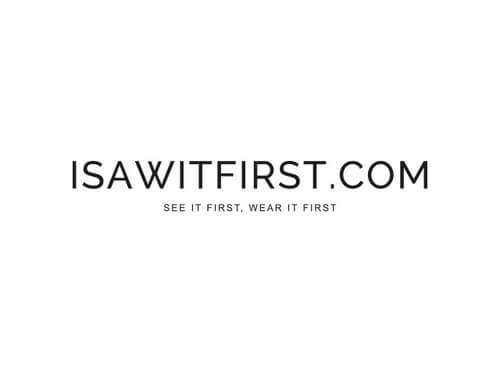 Image from: https://www.collectplus.co.uk/isawitfirst
Manchester-based business, I Saw It First, is another fashion brand who have looked to follow in the footsteps of Missguided as 2019's fashion partner for Love Island.
Last year, after promoting their products through Love Island, ​Missguided saw a 40% sales increase and 500% sales spike on specific products.
For fashions businesses targeting a younger audience, Love Island is an advertiser's dream with Generation Z and Millennial's making up a large percentage of the primary viewers.
What's the Product?
In this year's show, I Saw It First has kitted out the female stars with a range of outfits, from swimsuits to nightwear.
I Saw It First has done an amazing job at providing a smooth customer journey for viewers, making it very accessible to purchase the products the stars are wearing.
Viewers can purchase their favourite outfit from the show by using the same Love Island app that they can vote on. The app also keeps track of every product that is worn by the stars over the series.
Not only this but I Saw It First has also built a dedicated 'Love Island Shop' on their website.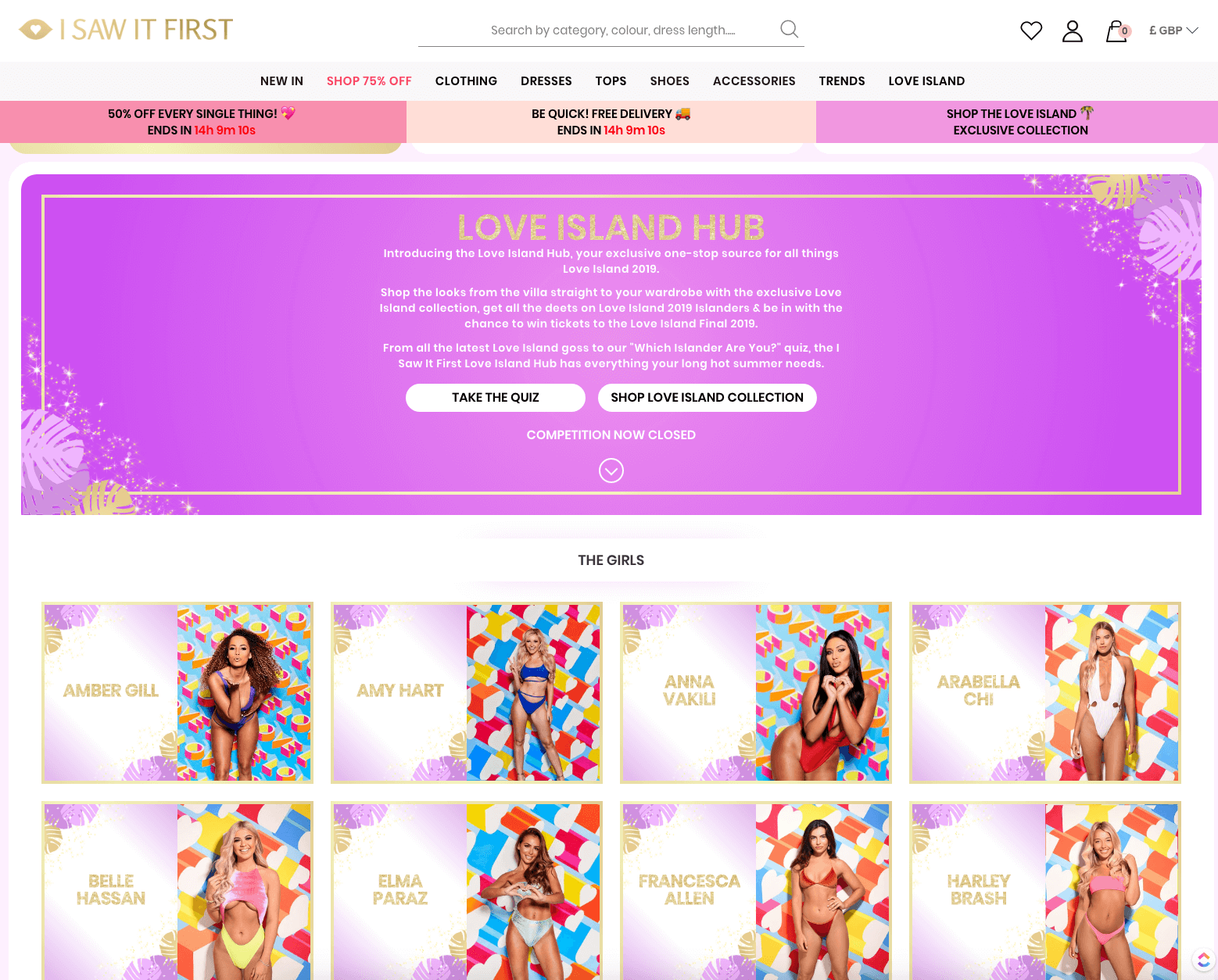 Image from: https://www.isawitfirst.com/pages/love-island
On the website, viewers can click on their favourite star and see all the outfits they have previously worn.
Based on Google Trends data, we can see that searches for 'I Saw It First' in the UK has seen a huge surge since Love Island aired in June.
This just shows how effective it can be for brands to partner with big shows like Love Island.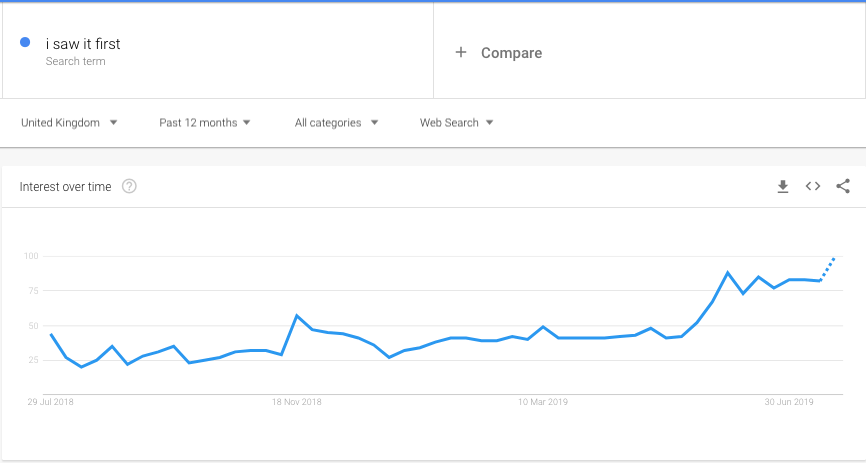 Image from: https://trends.google.com/trends/explore?geo=GB&q=i%20saw%20it%20first
4. Jet2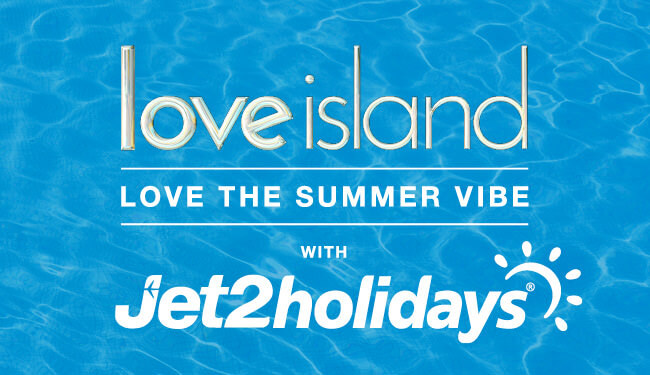 Image from: https://www.dartgroup.co.uk/Media/News/Last_chance_to_win_Love_Island_Live_Final_Tickets/
After a previously successful year, Jet2 has, once again, partnered up with ITV to be a partner of Love Island.
This means Jet2 is the official travel partner of Love Island, with the aim of raising brand awareness and connecting with a younger audience.
Jet2's strategy is to advertise through various channels such as TV, commercial competitions, digital advertising and much more.
What's the Product?
Jet2 has been using two main advertisements throughout the show to showcase the different holiday experiences that viewers can potentially win.
Viewers can not only win a Jet2holiday to Majorca but also the chance to win tickets to the Love Island final.
In addition to this, viewers can also get the chance to win a 7 night holiday in Magaluf, with £40,000 spending money.
Using different channels, Jet2 has also created social media campaign's to win prizes like tickets to the Love Island final, encouraging users to tag their friends and following Jet2's Instagram account to enter.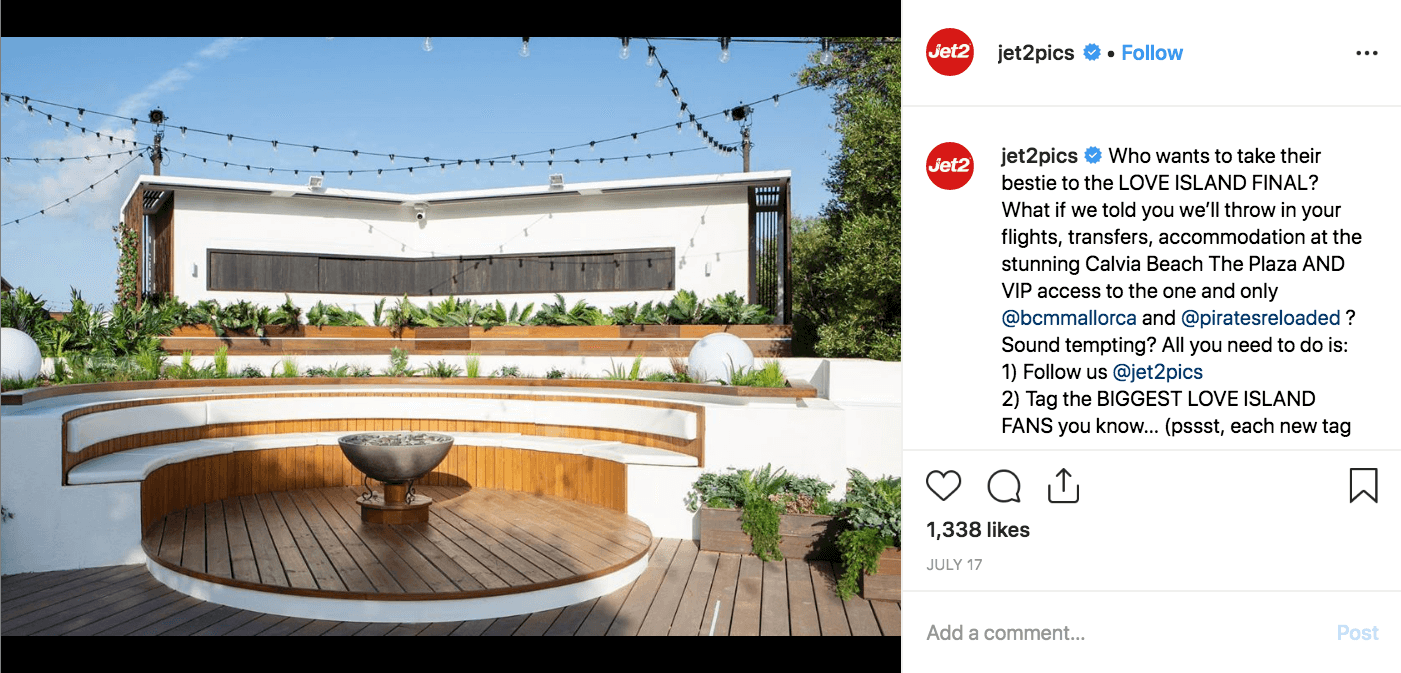 Image from: https://www.instagram.com/p/B0All4hAzGX/
5. Lucozade Zero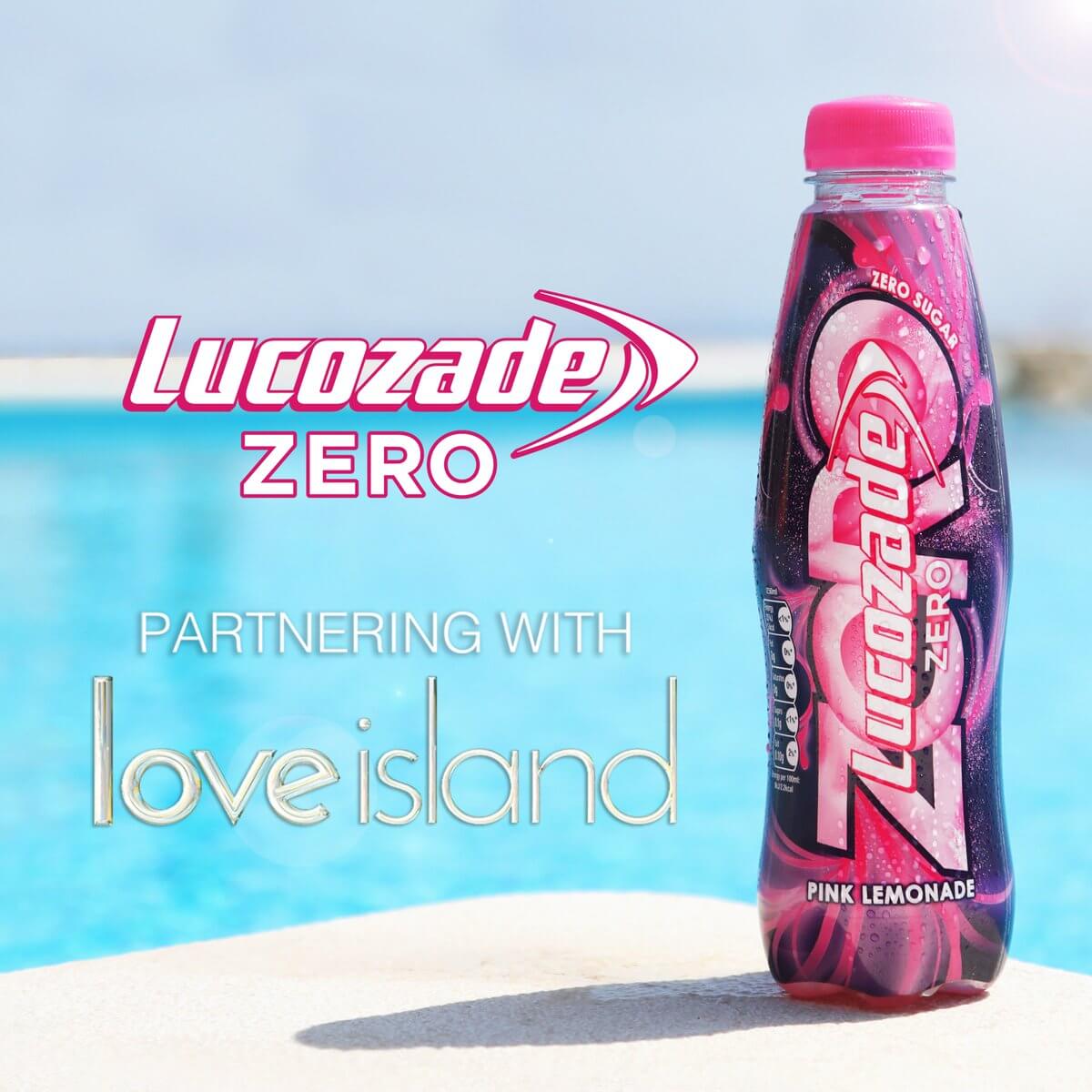 Image from: https://twitter.com/lucozadeenergy/status/1003564347644436480
Another big brand choosing to partner with Love Island this year is Lucozade Zero.
The soft drinks company has recently launched their ​£4 million multimedia campaign.
Lucozade Zero's multi-channel strategy involves TV adverts, digital advertising, in-store promotions and of course, social media.
In 2018, Lucozade also partnered with Love Island and saw an increase in brand awareness by 15% and an increase in sales by 27%.
What's the Product?
The main products being promoted through Love Island this year are Lucozade Zero in Pink Lemonade, Orange and Original flavours.
Lucozade Zero has been making great use of social media to join the Love Island conversation on Twitter.
We can see below, their account constantly shares images, videos and gifs from the villa with the brand always being shown somewhere.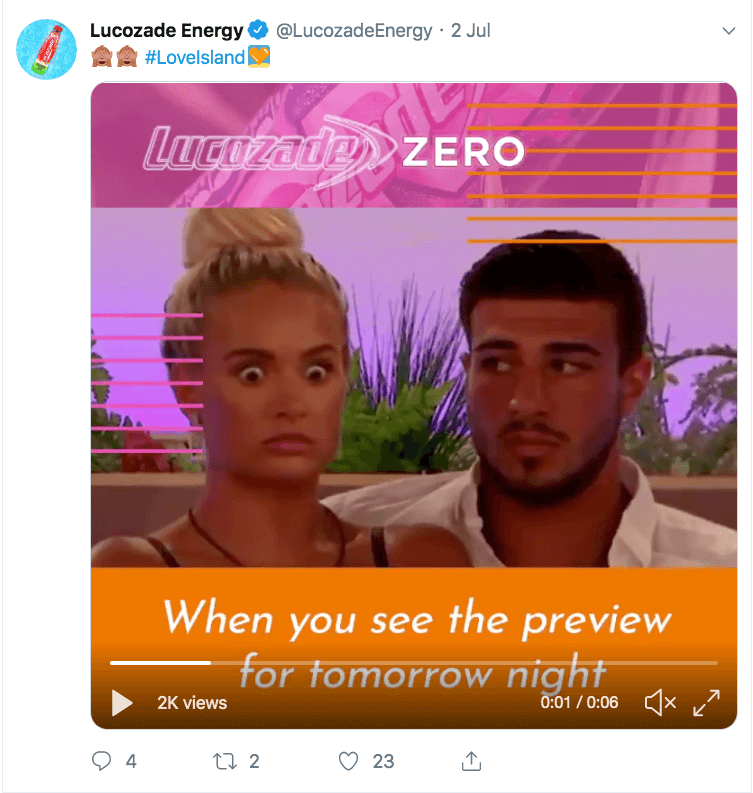 Image from: https://twitter.com/LucozadeEnergy/status/1146178752935813124
With different products come different target audiences.
Lucozade sports, for example, has a very different strategy, partnering with other sports brands and the official England football team.
It's clear to see why Lucozade Zero has chosen to partner with Love Island based on the younger target audience they are trying to capture.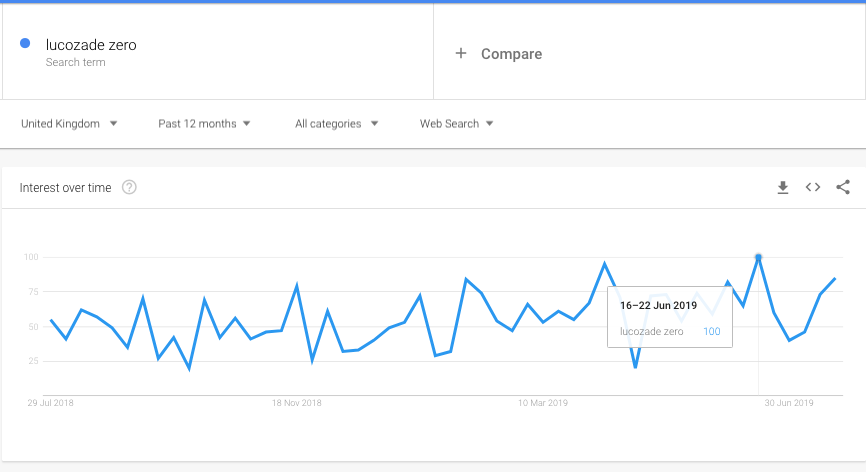 Image from: https://trends.google.com/trends/explore?q=lucozade%20zero
From Google trends data, we can see Lucozade Zero has reached it's highest levels of interest on Google in June 2019, the month that Love Island started!
Final Thoughts
Brands that want to reach Millennial's and the 'generation Z' have to do one thing. 
They have to find out where the attention currently is and make themselves present amongst it.
In 2019, it's apparent that the attention of younger audiences is held on social media sites and hit shows like Love Island.
The 5 brands above have all done a great job at positioning themselves exactly where their target audience is and joining in the conversation.
Love Island is truly the perfect platform for brands to engage with younger audiences and if done correctly, can be achieved in an authentic and natural way.
The examples above are perfect showcases of how brands are shifting their approach to reaching consumers and advertising their products.
And so far, it seems to be working!
Now can we all stop speaking about Love Island for another year?