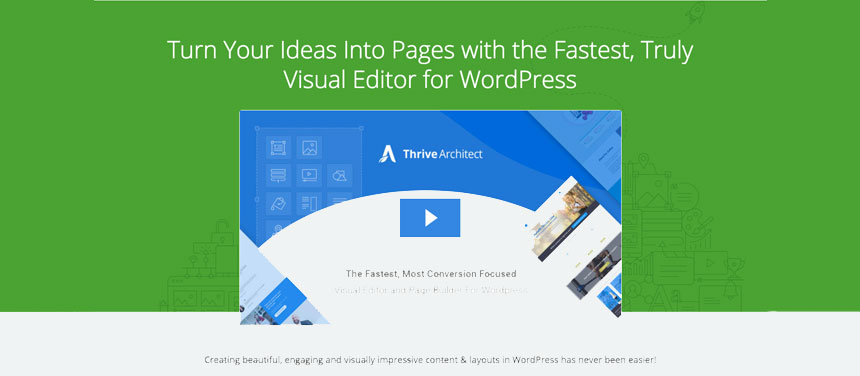 Thrive Architect review – An in-depth look into the drag & drop WordPress builder
Ever since I started using WordPress I've been looking to find a drag and drop page builder that is as easy to use as Thrive Architect. I just had to get that out right at the start, this product is fantastic.
The Thrive Architect plugin is from the well known Thrive Themes and is the next step on from the famous thrive content builder.
There were teething issues, don't get me wrong, but the result now is that the thrive team struggles seem to have been caught up with. Certainly the support has been nothing but brilliant in the last month or so.
How much is Thrive Architect?
Architect page bu​​ilder is a onetime fee of $67, it's nothing. The features you have with this page builder are worth an awful lot more than the price.
Even better you could go for the Thrive membership that gives you access to every one of the Thrive plugins.
What are the main features out of the box?
Over 220 landing page templates
Fully Responsive design – build for mobile, tablet and desktop all from the same screen
Thrive Leads direct integration
Vast number of content section templates
Works with any theme
Works with most other page builders
Who is it for?
Its for anyone who wants to use WordPress. It makes editing your pages and posts so much easier. If you then join it up with the Generatepress theme you can pretty much customise everything you need to in order to get the website you want as an outcome.
You could use the thrive themes they have created but for me the best combo is using the builder plugin alongside Generatepress.
An example of an e-commerce site built using Thrive Architect and Generatepress is Biobug Cricket Flour make sure to check out what can be produced.
How good is it?
We love it here at Tao Digital Marketing, we will install it onto nearly all of the websites we look after on behalf of our clients. We tend to pair it up with Thrive Leads, which is just a conversion boosting dream of a plugin.
We've had one or two issues with it conflicting with the pre-existing systems and plugins on wordpress websites. This is particularly apparent with websites using Fusion builder.  One of our large clients has a site built with this and we can't use Thrive architect to edit existing pages or landing page design.
For building a website from scratch though or building new pages with thrive architect it proves itself as a great builder plugin for wordpress.
Can a novice webmaster use it?
With an installed WordPress CMS and a theme already installed, there is no reason whatsoever that a novice WordPress business owner can't use this wordpress page builder.
The Thrive team have built a plugin for wordpress in architect that provides everything a website designer or developer might want.
One of the great things we have found with Thrive are the vast amounts of helpful resources they offer. There doesn't seem to be a day that goes but without them sharing a video resource or adding new features to the offering.
For closer inspection you can check out their tutorials on the use of the Architect web page builder here
100% Satisfaction Guarantee
The Thrive team are that confident in the fact you will love Thrive Architect that they have a full 100% money back Guarantee. Check out the terms here!
If you decide it's not for you after 30 days then you can get a full refund. Let's be honest, it's just worth trying!