4 Steps for Successful Collaboration Outreach
How do you create a successful marketing collaboration outreach campaign? After all, networking is an important business aspect in any industry. Let's discuss what steps are essential to initiate and establish a successful collaboration outreach strategy.
Before we get into that, let us ask you a different question. How many emails do you get a day?
The answer will obviously depend on what you do (or how popular you are 😉  ). But overall, the number of emails we send every day is growing. According to statistics, by the year 2025, the number of daily emails we send and receive is expected to increase to over 376.4 billion.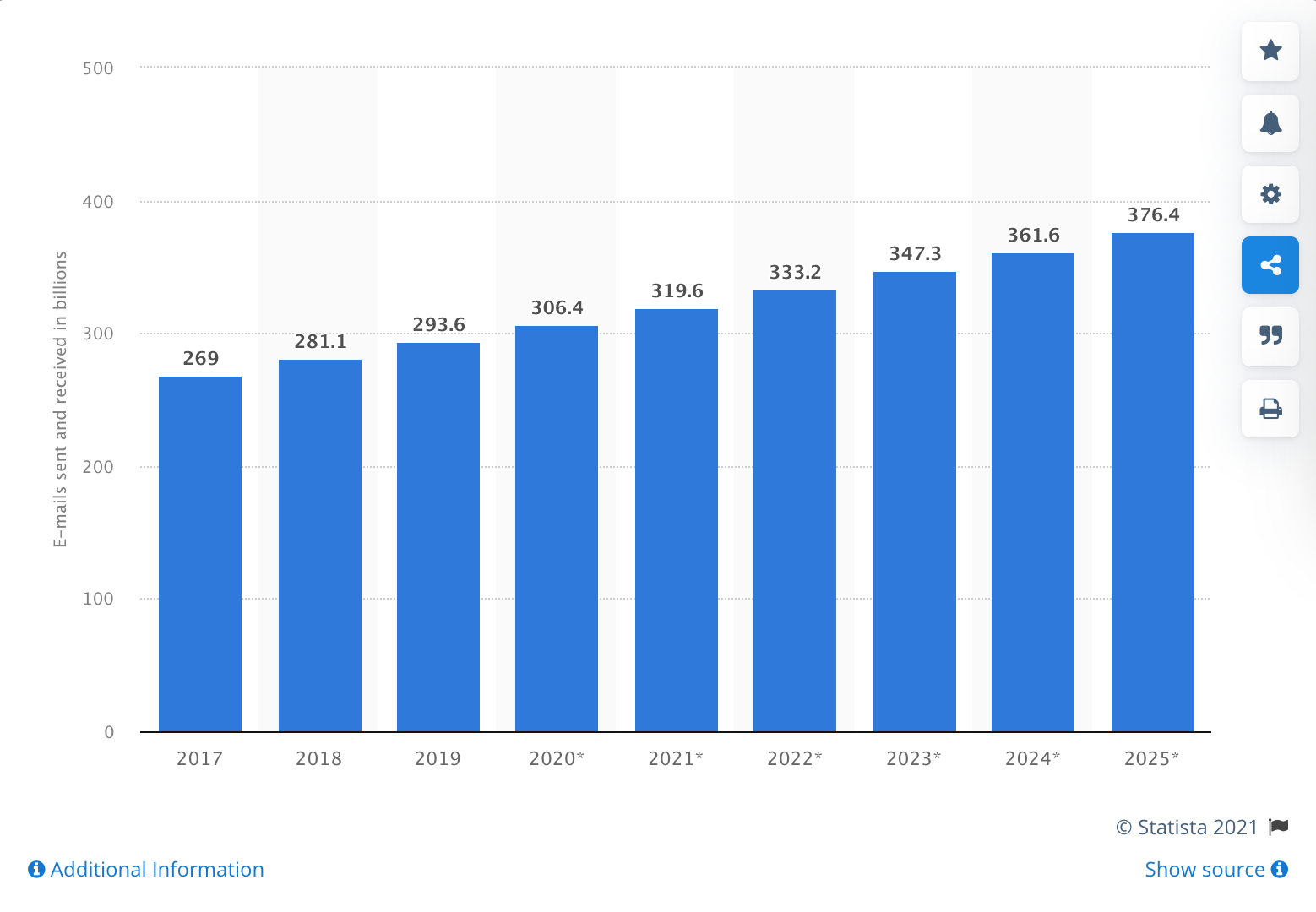 That's a LOT of emails. Now, in addition to email communications, marketers use social media as a collaboration outreach tool. So, add on Facebook, Twitter, LinkedIn, and Instagram messages, posts, and stories. You've got yourself a whole ocean of information going around the world in hopes of reaching just the right shore.
Within this, we, as marketers, have a very difficult task to do – stand out. Somehow we need to figure out a way to reach out to people in our niche and deliver our message in a way that is so unique, it will capture people's attention. Not easy! But not impossible either.
So here are steps to creating a successful collaboration outreach.
1. Have something cool to share in collaboration outreach
Have you ever been to a party where you get stuck talking to someone who has a lot to say? Yet, you find yourself staring absent-mindedly at the dessert table, wondering how to introduce the excuse of going to get some cookies just to get out of the conversation?
Well, you're on your own there with the "talker." But we would like to point out that not being "the talker" yourself when planning a collaboration outreach is a really good idea.
As we established, we all get bombarded with information pretty much every waking minute. So when we do open an email or read a social media post, we just want to get value from it. It could offer informational, supportive, inspirational, or entertainment value. Or, it could bring up something that would address the current pain points we're experiencing in our lives.
Whatever it is, the information you send has to matter to the recipient, not to the sender. Therefore, it's essential to focus on the needs of your audience, not on your own goal to promote yourself. Of course, you still do need to promote yourself a little bit. So the key here is to find your audience, then learn enough about it so you can support the audience's needs.
To do that you have to get creative.
Shoot For Radical Differentiation For A Successful Collaboration Outreach
Being creative with your content will ensure that you get your audience's attention. Of course, we are all tired of hearing the endless calls for "being creative" and no specific advice on how to do it.
Louis Grenier, the creator of Everyone Hates Marketers, comes to the rescue here, with a specific plan to create radical differentiation in content marketing. According to Grenier, radical differentiation is what it takes to stand out and be noticed in the sea of information. He recommends a five-step process to create a strategy that makes a company stand out. (Click on the link above for more information on each step.)
Get rid of your self-limiting beliefs – take risks, you CAN do it!

Pick a direction – simplicity and focus go a long way

Obsess over your customers – make them your top priority in every way possible

Engineer your uniqueness – what is different about you? Highlight that!

Identify your status quo – where are you at on the market?

Show it to the world – it's not fair to hide your unique self from people. Show off!
2. Find the Right People (Once Again by Being Creative)
A natural step in a successful collaboration, this one is probably the trickiest one. Making friends is hard enough. Making friends in the right places is even harder. Where can you find your collaboration partners?
Your email box 📧
Yes, you read that right. Some of the people you need are already right in front of you. All those emails you get? Some of the senders can be recipients of your content and potential collaboration partners.
For example, let's say you get a message from a company that is offering you products or services, but you have no need for those products and services. However, the company and its audience are in your niche (selling similar products or sharing content on similar topics). Instead of trashing the message or letting it drown under piles of more daily emails, email the sender.
In your reply, let the sender know that while you might not be interested in his or her offer, you are open to collaboration. Personalise the message by discussing a specific piece of content on the sender's site that you found interesting and offer some of your content. Suggest a collaboration that can be beneficial for both parties.
One advantage of these email replies is that the original senders are more likely to open and read your email. After all, your message shows up in their mailboxes as a reply to a message they have sent themselves.
Of course, there is always a chance that the person emailing you does not handle content and would not be the right contact person for a content collaboration. That is why it might be helpful to include a quick note at the end of the email, asking to be forwarded to the right person in this case.
Backlinking and Journalist Tools 🔄
Content marketers are always on the lookout for expert insights. That is why tools such as HARO, JustReachOut, and others similar to these offer a great opportunity for successful collaboration outreach.
These tools can connect you to the right audiences when it comes to sharing your expertise and insights. But there are additional opportunities there. Once you connect with a writer or marketer through the platform you can build and maintain strong collaborative relationships. That, in turn, can help build up your audience.
Here is an example of this strategy at work:

Social media #️⃣
Whether we like it or not, social media rules the world today. We use it for everything, from shopping to connecting to our distant relatives. It is also a gold mine for building relationships and creating successful collaborations.
The important thing here is to remember that just like when you walk into a room full of people, connecting with them takes time and effort. Good news for introverts, however. On social media you can be as outgoing, engaging, and frequent with your interactions as your time and energy allows. All of that can be done from the comforts of your home or office, no need to even dress up.
Participate in Twitter Chats, read and comment on LinkedIn posts and articles, and join some Facebook groups that discuss topics relevant to you. You never know whom you're going to meet on social media, but you can bet you will learn a lot from these interactions. You might even have some fun along the way.
A8: Depends on the platform. Once a day on LinkedIn and Facebook. 3-4 times a day on Twitter. #BizapaloozaChat

— LiveHelpNow (@LiveHelpNow) December 20, 2021
Google Search 🔎
Another great source for collaboration outreach is, of course, Google search. After all, this is where you want your content to appear. It only makes sense to find what content already appears on the first pages of the search, and try to join the party. Here are steps to connect with people who write and share topics similar to yours and to enhance your content promotion strategy.
Come up with a list of keywords relevant to your content topic or products

Search each of these keywords in Google Search

Review the results and see if you have any information to add

Find contact information for content authors and publishers

Contact these important people and offer them your content to add

Offer them something in return. After all, they have already completed their work and it has been popular and relevant enough to reach the top of Google Search. What is in it for them if they add your content to theirs? What can you offer?
Here is an example of such an email from a fellow marketer at Motionbox:

3. Stand Out with Your Messaging
Going through tons of email messages every day can be a monotonous task. Wouldn't it be great if the emails we got were fun to read? Well, in the words of Michael Jackson, "If you want to make the world a better place, take a look at yourself and make the change."
The first thing your recipients see is the subject line of your email. You only have a second or two to appeal to them through one that does not cause them to yawn and move on with their busy lives. Check out this one:
Yes, that is the same Louise Grenier that called for radical differentiation when it comes to marketing content. He stays true to his belief and adds a flare of creativity into everything he puts out. I say he is on point with getting my attention.
Once you get your contact to open the email you still have some work to do. You can make your email body text stand out by creating unique, non-boring messages. Here is one that I think did a stellar job at that.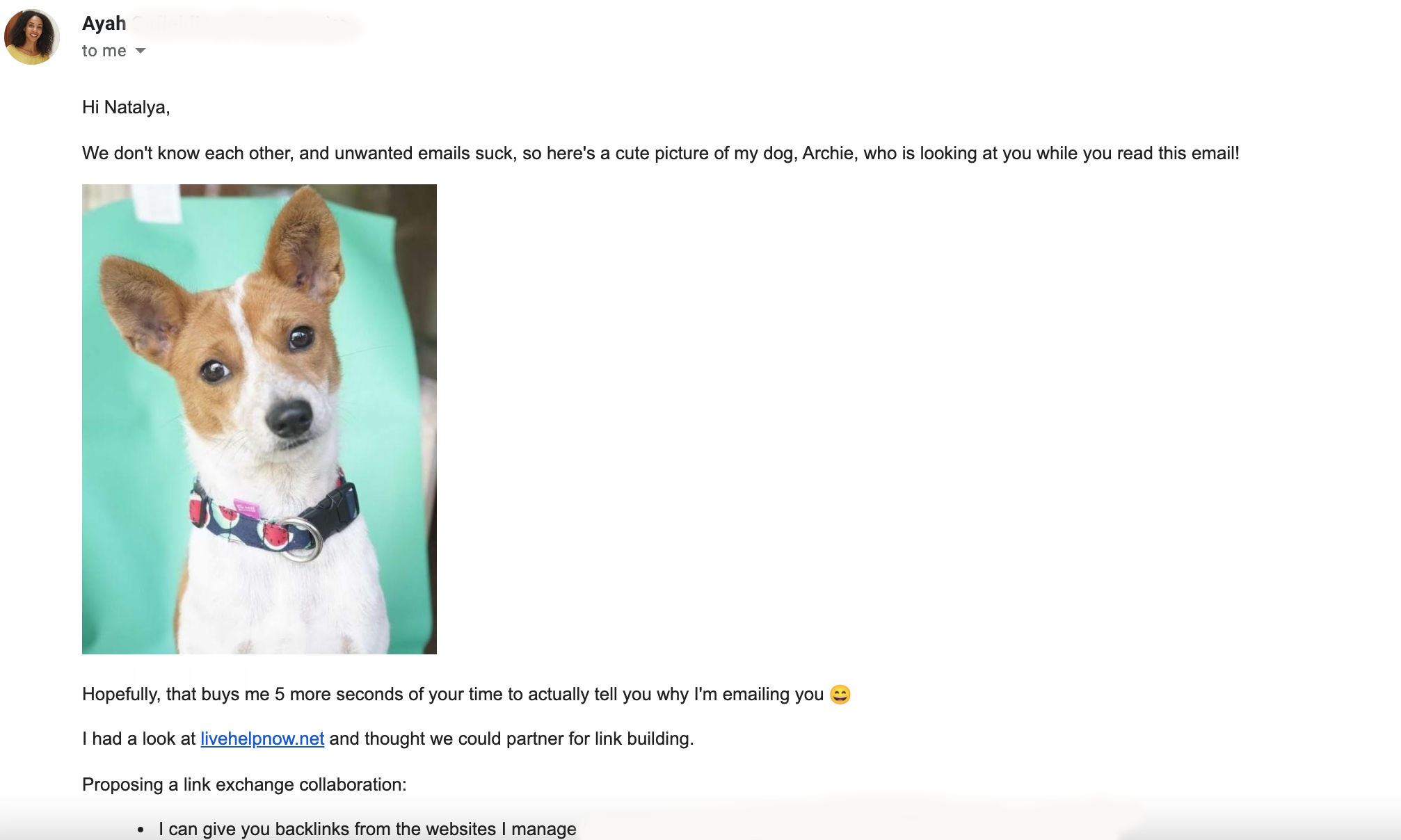 I mean, how can you say no to that face? If Ayah sent me an old boring email about link collaboration, there is a chance I would miss it. But Archie makes this email memorable, increasing chances for a successful collaboration outreach. Ayah and Archie for the win!
There are many ways to make your emails stand out by adding some fun and creativity to them. The more "you" you make the messaging, the better. Remember the words of another great poet: "There is no one alive who is Youer than You."
4. Don't Give Up and Follow Up
Years ago, back when I was in Journalism school, I got an internship at my local city paper. My biggest assignment on the weekly basis was to select five top events in the city to highlight in the weekend section. Five. Mind you, every week a pile of about 300 print-outs with event details sat tall on my desk. There was no way in the world I could read all 300 and select five. Most of the time I'd read from the ones on top, discarding those that did not fit or sound fun, until I had five. Sometimes I would cut the pile in half and read from the middle, but those events on the bottom of the pile never had a chance.
The lesson here is that in the vast world of information (of which there is so much more in digital format) sometimes to stand out you might need some pure luck. You never know who will come across your emails, when, and in what state of mind. Research shows that the percentage of cold emails that receive a reply varies between 1 and 3 percent. That is one to three people out of 100!
How can we make our own luck? By staying positive, staying persistent, and following up. If someone misses our message the first time, there is a chance our recipient might see it the second time. You can use project management software to remind yourself to follow up, and even set up automations for outreach. We personally do this within ClickUp, you can read more about it here.
And if not, perhaps we need to reach someone else's desk.
So, how does one create a successful marketing collaboration outreach campaign? By sharing the right content with the right people in a creative way. By being authentic and fun. By being uniquely you in every message you send. And by never ever giving up.