Kinsta Hosting Review – We think it's the best WordPress host around
When it comes to hosting a website, it's important that you use a hosting company that allows your website to perform at its best and can be closely monitored for any errors. Having adequate hosting will ensure that your website runs optimally, giving you the best chance of online success. 
We use Kinsta for all of our client's websites, and it has helped to power our business in several ways. Below, we've rounded up a full summary of what Kinsta does, and the key factors that we, and other agency owners, enjoy.
2 months free Kinsta Hosting
Get 2 months free by clicking on this link. Kinsta is the best host we have found for managed Wordpress hosting by miles. And the Customer Service is second to none.
You will not regret deciding to host your Wordpress website with Kinsta.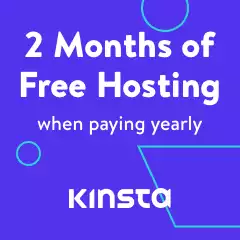 We earn a commission if you make a purchase, at no additional cost to you.
What is Kinsta Hosting?
Kinsta is a secure, fast and reliable hosting platform – the best we have ever used. We host over 100 sites and consult with our clients on where to host their WordPress websites. To this day, we still haven't found a company that is better at hosting WordPress sites than Kinsta. 
We normally see an instant performance improvement of over 50% reduction in loading speed, along with being able to update the core files, plugins etc. on a staging site without the fear of losing anything on the live website. 
You can get all of this from $35 per month for one website. Check out their pricing plans here.
Our favourite Kinsta features
There are many features we love about Kinsta, detailed below…
With one click of a button you can create a staging site that is an exact replica of your existing website. It also handles blocking search engine crawlers to stop duplications of your site in Google's index along with the ability to click to update plugins in the MyKinsta dashboard.
Security is top notch
One of Kinsta's greatest service offerings is the free removal of malware from your website. We all hear of the issues with WordPress security, and don't get us wrong, it can be an issue if you don't have a maintenance plan in place and site software is not updated. It's great to have the back-up of the support team to help out if the worst does happen. 
Sai Blackbyrn, CEO at CoachFoundation, has enjoyed this feature too: "Fixes for hacking are available for free. If a customer's WordPress webpage is hijacked, we'll take care of it right away." 
Support is second to none
This is one of the biggest reasons we use them for all our hosting. There are many companies online who claim to provide great customer service, but Kinsta is by far the best we have ever experienced. 
Within minutes of raising an issue with the support team, they will do their very best to help. We have had some issues over the years and we have always been able to rely on the team. 
Mushfiq Sarker, CEO of Stream SEO, is also a fan of the support provided: "The customer service at Kinsta is outstanding. Whenever I have an issue or a question, the team is always quick to respond and help me out. They're also very friendly and seem to genuinely care about their customers."
Pedro Braz, Co-Founder of Investing in the Web, adds: "The Kinsta customer support has always been friendly and very fast to work with. This is something that we find very valuable since it is something that we've had troubles with in the past with other hosting companies – delayed responses, closing chats, etc. With Kinsta, everything has been running smoothly."
Kinsta Server Locations
Kinsta has 32 data centers throughout the world, you can select the server location nearest your target audience. 
List taken from this page on the Kinsta website.
When creating your site, you can choose from 32 data centers:
Changhua County, Taiwan (asia-east1)

Hong Kong (asia-east2)

Tokyo, Japan (asia-northeast1)

Osaka, Japan (asia-northeast2)

Seoul, South Korea (asia-northeast3)

Mumbai, India (asia-south1)

Delhi, India (asia-south2)

Jurong West, Singapore (asia-southeast1)

Jakarta, Indonesia (asia-southeast2)

Sydney, Australia (australia-southeast1)

Melbourne, Australia (australia-southeast2)

Warsaw, Poland (europe-central2)

Hamina, Finland (europe-north1)

St. Ghislain, Belgium (europe-west1)

London, United Kingdom (europe-west2)

Frankfurt, Germany (europe-west3)

Eemshaven, Netherlands (europe-west4)

Zurich, Switzerland (europe-west6)

Montréal, Canada (northamerica-northeast1)

Toronto, Canada (northamerica-northeast2)

São Paulo, Brazil (southamerica-east1)

Santiago, Chile (southamerica-west1)

Council Bluffs, Iowa, USA (us-central1)

Moncks Corner, South Carolina, USA (us-east1)

Ashburn, Virginia, USA (us-east4)

The Dalles, Oregon, USA (us-west1)

Los Angeles, California, USA (us-west2)

Salt Lake City, Utah, USA (us-west3)

Las Vegas, Nevada, USA (us-west4)

Milan, Italy (europe-west8)

Paris, France (europe-west9)

Madrid, Spain (europe-southwest1)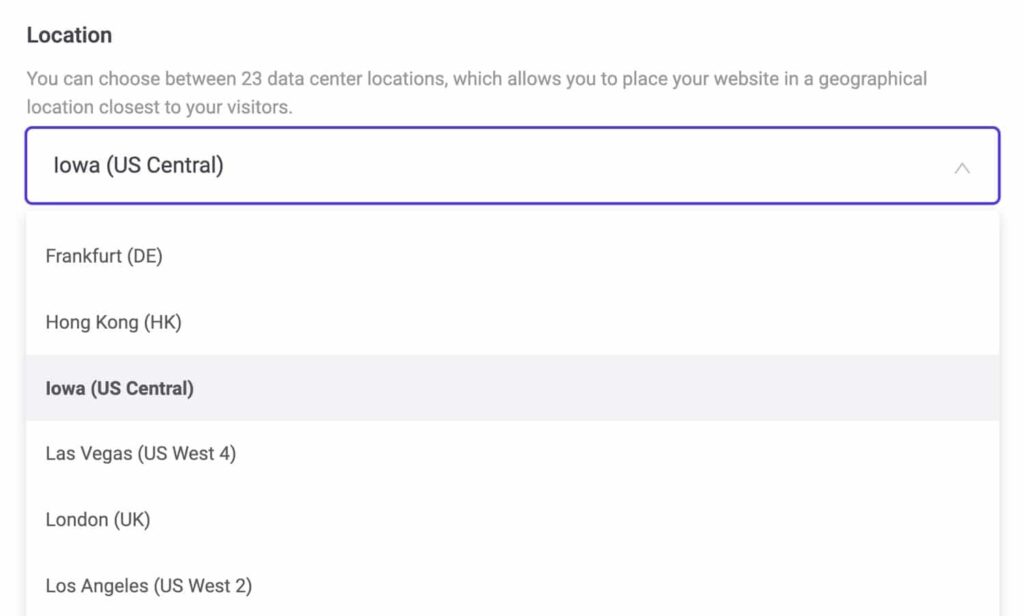 Free SSL on all sites
Kinsta supports both free Cloudflare SSL certificates and custom SSLs. For most users, the Cloudflare SSL integration provides HTTPS support at no additional cost.
Push just theme files or databases from staging to live
The ability to choose whether to push theme files, databases or both to the live environment is a great tool for any Woocommerce site owner. 
Developing new features on a Woocommerce site can be a bit of a handful to make sure you keep all live orders in tact. When a website is in the development environment ('staging' on Kinsta), there can be sales happening on the live website. When you then push the website to live, the orders that have been made in this development time can be lost if you're not using an external order system. 
With the ability to just push changes to the theme files, the database will remain the same and you will therefore not lose any orders. 
Kinsta Woocommerce Hosting
Kinsta is a great platform for hosting a Woocommerce website. The speed improvements help with increase in revenue, SEO and a number of additional benefits. 
Kinsta uses the Google Cloud Platform to make sure they are using the very latest and greatest cloud hosting technology available. 
This is a feature that Patrick Garde, Co-Founder of ExaWeb, also enjoys: "We moved from Hostgator to Kinsta and we never looked back. It improved our website's performance as well as our clients' websites. We liked the infrastructure of Kinsta as they use Google Cloud Platform. In addition, expect a speed up on content delivery with their CDN as it is powered by Cloudflare."
DevKinsta for local development
If you prefer developing on your local machine, then DevKinsta is a great addition to the platform. It has seamless integration with your MyKinsta dashboard allowing you to upload changes you have made straight to your container, similar to using GitHub. 
You can also download your website with the click of a button to your local machine and work away in your own time.  
Fastest loading theme we have seen on Kinsta
We have a few different themes on our Kinsta account, but by far, the one that performs the best is Generatepress. So, our recommended WordPress theme for using on Kinsta is Generatepress. 
One of our better performing sites is The Goldfishtank, built with Generatepress and moving the site to Kinsta improved Core Web Vitals in a very impressive way, especially when the site attracts traffic from across the globe. 
How much does Kinsta cost?
There are numerous plans available depending on your business needs, starting at $35 per month – view details below or read more here (correct as of June 2022).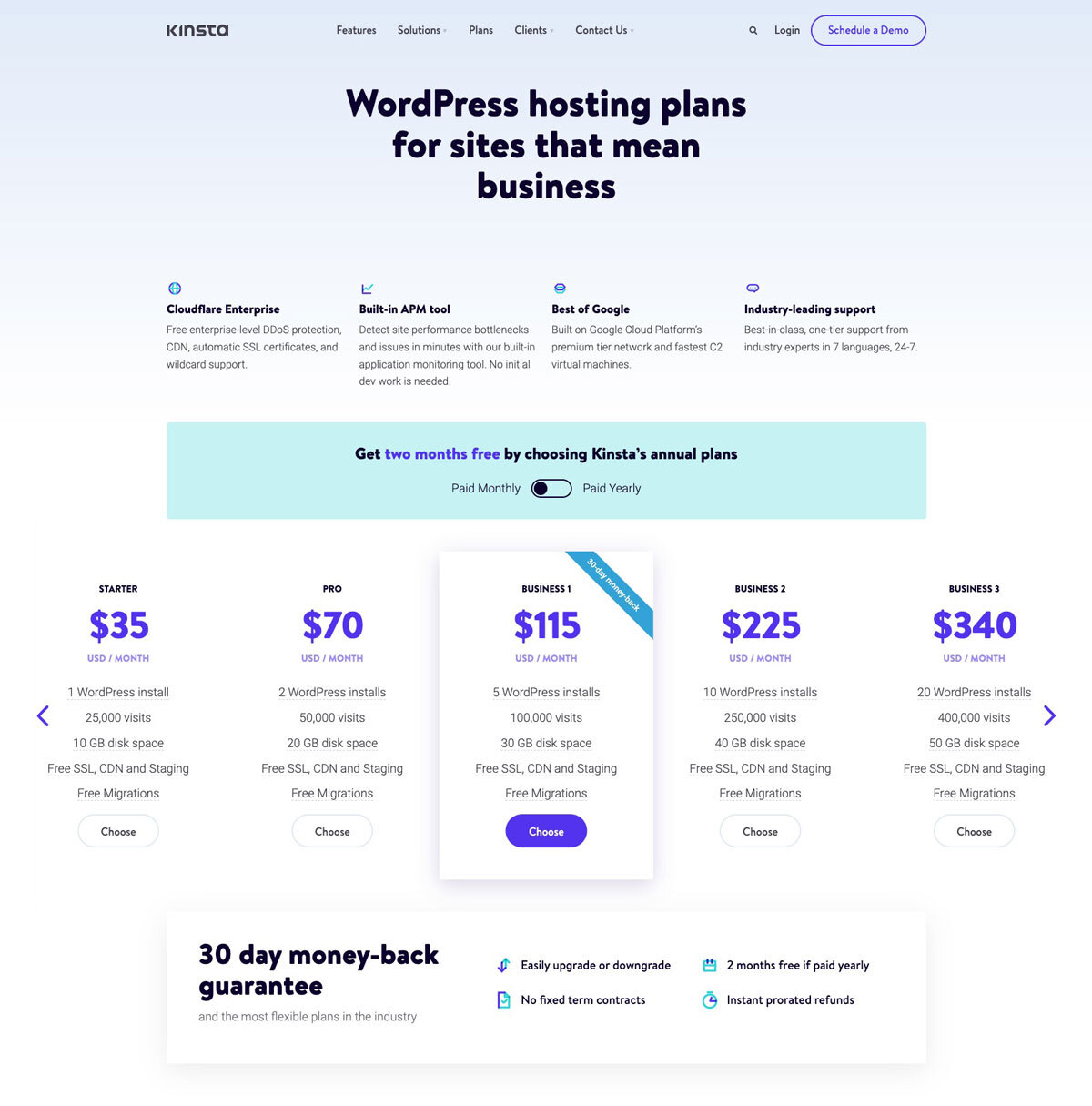 Mushfiq Sarker, CEO of Stream SEO, also adds: "You get what you pay for with Kinsta, and I think the extra cost is worth it for the speed, features, and customer service you get in return."
Overall, we're massive fans of Kinsta for hosting. If you have any further questions, or want to chat to us about web hosting, email us on hello@taodigital.org or call us on 01204 282 213.
2 months free Kinsta Hosting
Get 2 months free by clicking on this link. Kinsta is the best host we have found for managed Wordpress hosting by miles. And the Customer Service is second to none.
You will not regret deciding to host your Wordpress website with Kinsta.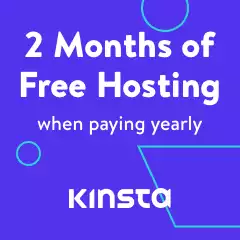 We earn a commission if you make a purchase, at no additional cost to you.