Four Proven Tips to Optimise Images for your Website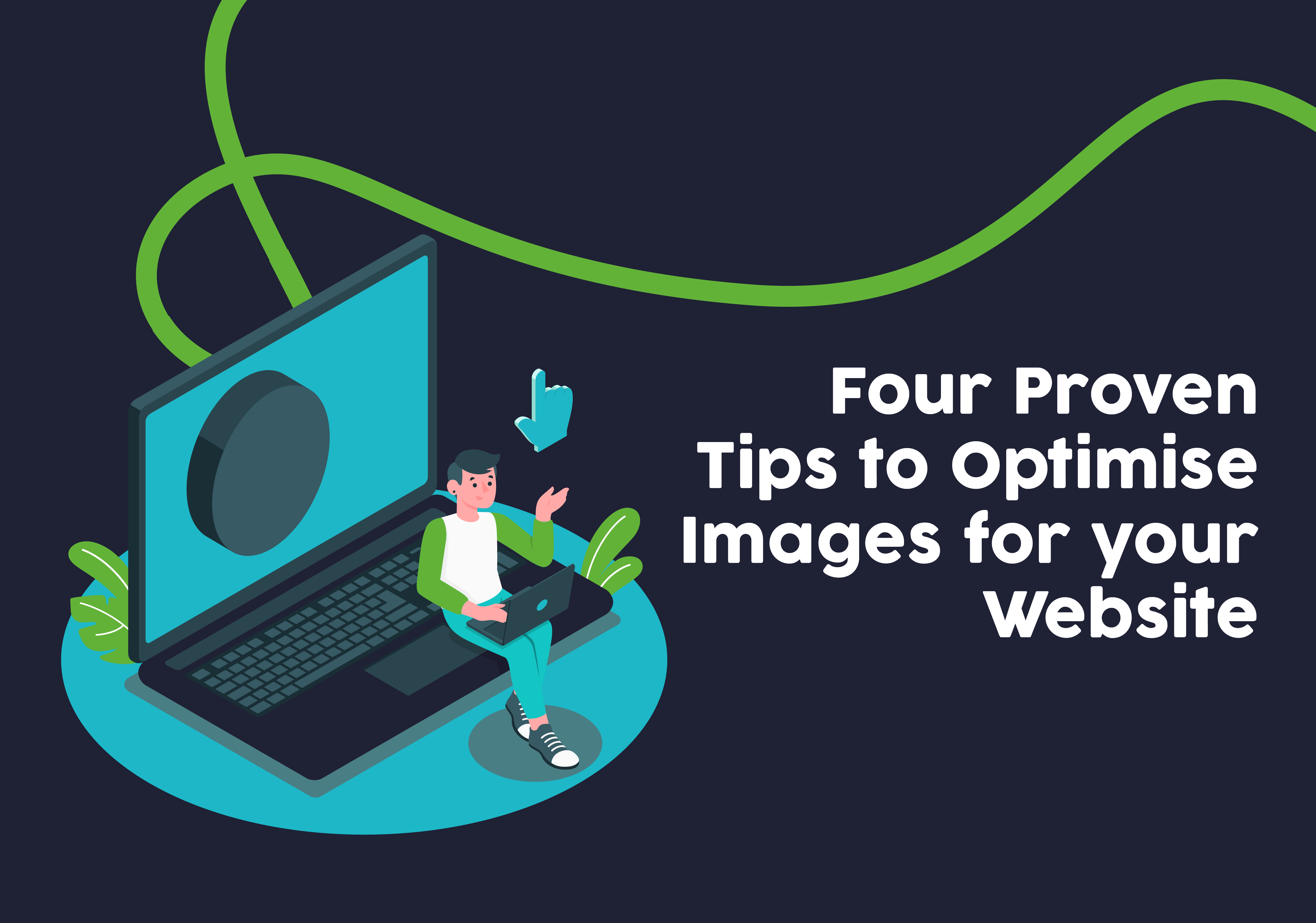 Undoubtedly, images offer tremendous benefits. A great user experience, high engagement, and brand exposure are a few of them. That is why almost every content creator tries to incorporate them into content strategies. 
Though they transform a text-heavy write-up into a visually appealing piece, they require search engine optimisation. 
Inability to optimise images can have a poor impact on SEO. Since image searching is in full bloom, competitors are working hard to bring their sites to the top. Therefore, image optimisation needs no compromise. 
But before discussing the tips and tricks, let's try to understand what is image optimisation: 
What is Image Optimisation? 
Optimising images refers to delivering the best quality with minimum image size. To achieve this goal, we change various elements like image title, file format, dimensions, etc. 
When the image size is small, it brings less burden to the site, enabling it to load fast. A fast-loading website provides a great user experience and increases conversions. Besides this, well-optimised images are easier to crawl and help in boosting the SEO rank. 
Thus, to boost the business in the digital landscape, every marketer should learn about image optimisation. This article will share some valuable tactics to help you out. 
Never Forget to Add Context to the Images 
SEO experts always try their best to let search engines understand their images. Thankfully, adding context to the images is not difficult. Here are a few useful ways: 
Use Titles and Captions 
Since the attention span of visitors is low, adding titles increases the probability of converting them. In some browsers, titles appear when the visitor hovers over the image. It should be short and specific. 
For instance, if you use an image of a Palm Tree, a good title is "Palm Tree," whereas just "Tree" can refer to a broad category. 
Likewise, captions appear below or above an image. They are the short description of the image. You can use keywords at the start of the caption but try to make them brief and catchy. 
For example, "best sites for stock images" is a good caption. But "cheap and reliable websites to get high-quality stock photos" look unnecessarily lengthy. 
Alt Text 
It is the text that appears in place of an image when the internet is working slowly. Thus, users get to know which image will appear. Likewise, as the name suggests, it is an alternative to an image and appears in front of people using screen readers. 
For creating a compelling alt text, incorporate keywords smartly. If you stuff multiple keywords, it will sound spammy, and search engines won't understand the context of the image.
For example, a "Chocolate walnut brownie topped with white chocolate glaze" is a good alt text that makes sense. However, brownie glazed white walnut chocolate is inappropriate.
Structured Data 
Structured data is a pre-defined format through which we tell Google about the page contents. It provides rich results for the images, which also enhances the consumer experience. 
If we don't back up the images with structured data, they won't provide us any SEO benefits. They will just enhance the visual appearance of the page. 
Always Submit an Image Sitemap 
An image sitemap is a map that describes all images of your site. It includes an image URL, short description, alt text, licence, title, etc. The purpose of this map is to enable search engines to understand the purpose of each image. In this way, they will find it easier to index your site. 
Luckily, WordPress users can enjoy this feature for free. They don't need to create a separate map for images as the platform automatically saves all their images in the main sitemap. 
Also, those already having a main sitemap don't need to create an image sitemap separately. You can easily add information to your existing sitemap. 
But make sure to add accurate detail to each image. Otherwise, you won't get any SEO benefits as search engines cannot match the information with the image. 
Use High-Quality and Royalty-Free Images 
Finding images for your site is not difficult. Start searching, and you will find billions of options. But every image is not the right choice for your site. You firstly need to see the copyrights and licence of the image. 
Stock images are available on several sites, but people only prefer reliable sources as they provide customisable and high-quality assets. These pictures portray a positive image of the site besides providing context to the search engines. 
Additionally, paid stock photos are a better option than free ones. Since they are not overused, they leave a positive impression on the visitors. Many new and established businesses use paid stock photos and provide a great user experience. 
Consider the Right File Format and Image Compression 
Try to understand the purpose of each file format. You can use JPEG when you want a drastic reduction in file size. However, consider PNG if the quality is your first concern in comparison to file size. If you are using animation, GIFs are the best option.
Once you have chosen the file format, thinking about compression should be your next step. Adding pictures without compression will take a lot of space and increase the loading time. Thus, the user experience will spoil. No one wants to do it, so compressing images is essential. 
Try to understand the two types of compression before proceeding: 
Lossy Compression 
It is a type of compression in which you compromise the image quality to decrease the image size. Thankfully, the quality compression is negligible. WordPress users can automatically get this feature for JPEG files. 
Lossless Compression 
Here you don't compromise on the image's quality, but you cannot significantly reduce the file size. The reduction of file size in lossless compression is just 5%. In some cases, marketers want to keep the premium quality of the images. Therefore, they opt for lossless compression. 
Final Words 
Image optimisation can let you achieve your SEO goals. If done correctly, it can help you compete well with your rivals. 
Tips like providing context to the images, choosing the correct format, and providing an image sitemap are helpful. Likewise, using the best quality images and considering the correct form of compression is essential. 
Following all these tips can let you optimise your website images without increasing the loading time. Add them to your SEO strategy today!