Clearing the Path to Success:
A Case Study on Designing a Brand Identity and Website for JT Hearing Care
Visit the site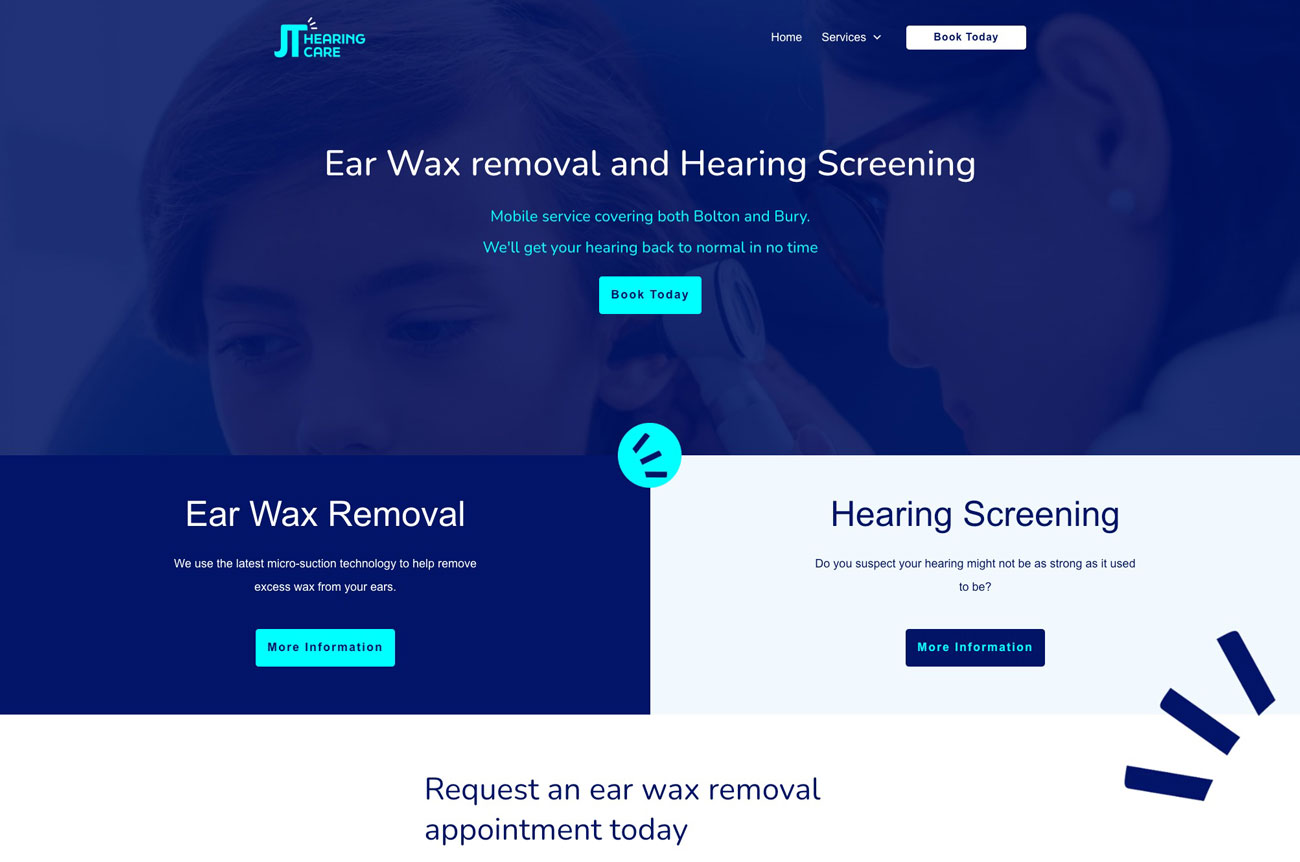 Introduction to JT Hearing Care
Joanne Tomkin, a Midwife at The Royal Bolton Hospital, approached us to design and build a website along with the task of creating branding for her ear wax removal company based in Bolton.
The main objective of the project was to create a brand identity that would establish trust and reliability among potential clients.
With this in mind, we worked closely with Joanne to create a website that would showcase her expertise and professionalism. Our team also developed a brand identity that would communicate the company's values and mission. This case study will describe our approach to the project, the design and development process, and the results achieved.
Website platform
For the development of the website, we chose to use WordPress as the content management system (CMS). WordPress is an excellent choice for websites of all sizes and types, as it is easy to use and customise, and offers a vast selection of plugins and themes to extend its functionality.
We used Thrive Theme Builder for this website as we wanted to be as efficient as we could be and cost effective in the build phase.
In addition to WordPress, we also chose to host the website on Kinsta, a premium hosting platform for WordPress websites. Kinsta offers lightning-fast page load times, advanced security features, and excellent support, making it the perfect choice for a high-performing website like JT Hearing Care.
Check out our Kinsta Hosting Review here.
By using WordPress and Kinsta, we were able to create a website that not only looks great but also performs exceptionally well. The website is easy to navigate and provides users with all the information they need to make an informed decision about their ear wax removal needs.
Overall, we are very pleased with the choice of using WordPress and Kinsta hosting for the development of the JT Hearing Care website, as it helped us deliver a high-quality, reliable, and fast website to the client.
Next steps for JT Hearing Care
Local SEO, it is an essential part of any business that operates in a specific geographic location, such as JT Hearing Care. Local SEO helps businesses to appear in the local search results when users search for relevant keywords and phrases related to their business. This can help to drive traffic to the website, increase brand awareness, and ultimately generate more leads and sales.
To build a Local SEO presence for JT Hearing Care, we started by conducting keyword research to identify relevant local keywords and phrases. We then optimised the website's content to include these keywords in a natural and organic way.
We also created and claimed the business listing on Google My Business, which is a free tool that helps businesses manage their online presence across Google, including Google Maps and Google Search. This listing includes the business's name, address, phone number, and other relevant information, and helps users find and connect with the business easily.
Here is our guide to Google My Business
We also created and optimised local citations for JT Hearing Care, which are mentions of the business's name, address, and phone number on other websites, such as online directories, review sites, and social media platforms. These citations help to establish the business's authority and credibility in the local area and can improve its ranking in the local search results.
Finally, we implemented a review management strategy to encourage customers to leave reviews of their experience with JT Hearing Care on platforms such as Google and Facebook. Positive reviews can help to improve the business's visibility in the local search results and increase its credibility and trustworthiness with potential customers.
By implementing these Local SEO strategies, we can help JT Hearing Care to improve its visibility in the local search results, increase its online presence, and ultimately drive more traffic, leads, and sales to the website.